Bonnaroo 2020 Lineup Announced: Headliners Tame Impala, Lizzo and Tool Are Part of a Strong Eclectic Weekend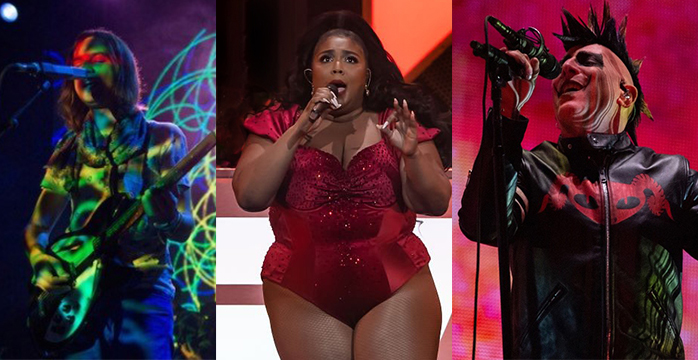 Bonnaroo Music & Arts Festival is returning this year to Manchester, Tennessee, from June 11-14. Today, the 2020 lineup has been announced. The headliners are Tame Impala, Lizzo, and Tool. The lineup also includes Lana Del Rey, Vampire Weekend, Flume, Miley Cyrus, the 1975, Run the Jewels, Young Thug, Megan Thee Stallion, Brittany Howard, DaBaby, Jason Isbell, Tenacious D, King Gizzard & the Lizard Wizard, Nelly performing all of Country Grammar, Cuco, Makaya McCraven, and more.
However, in true Bonnaroo fashion, the trio is just the tip of the iceberg when it comes to this year's lineup.
They'll be joined by Miley Cyrus, Lana Del Rey, Vampire Weekend, Bassnectar, The 1975 and Flume. Other eclectic highlights include Run The Jewels, Megan Thee Stallion, DaBaby, Oysterhead, Tenacious D, Jason Isbell and The 400 Unit, King Gizzard and The Lizard Wizard, Leon Bridges, Young Thug and Grace Potter.
Lizzo will also be making headlines at Bonnaroo, as the first-ever female artist to top the bill at Bonnaroo. The "Truth Hurts" singer is in the midst of a phenomenal year, but she previously came to Bonnaroo (and stole the show) on one of its smaller "tent" stages in 2016.
Alternative rock outliers Tool are returning to Bonnaroo after previously headlining in 2007 – the largest gap ever for a returning headliner. They'll also perform at Nashville's Bridgestone Arena on January 29.
Australian psychedelic rockers Tame Impala have thrived at Bonnaroo – their performance on the festival's secondary stage in 2016 attracted one of the largest crowds of the weekend. They'll make their Bonnaroo headlining debut this year, closing out the festival on Sunday night.
Last year was a big one for Bonnaroo. In 2019, the festival sold out for the first time in six years.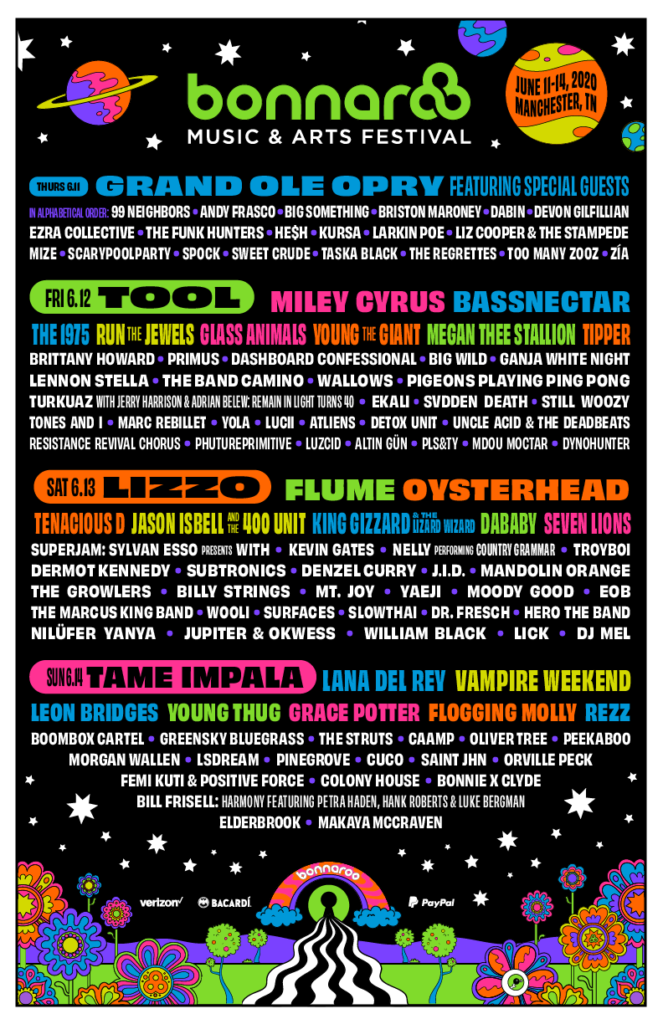 Red Hot Chili Peppers, P!nk, Lil Nas X, SZA and Paramore Tapped For The 2022 Austin City Limits Music Festival
The two-weekend festival comes to Zilker Park on October 7–9 and 14–16.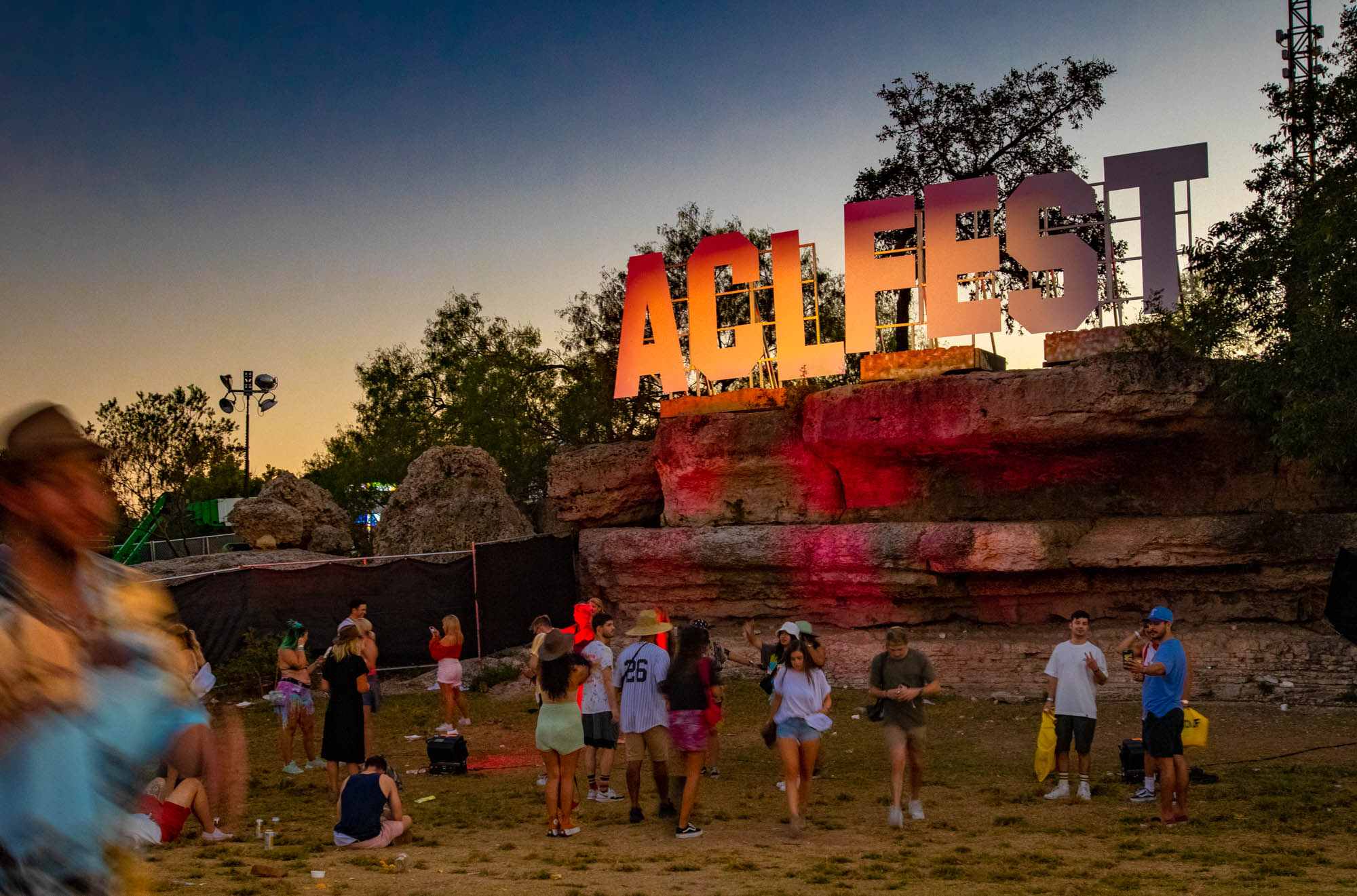 Austin City Limits has announced the lineup for the 2022 edition of the festival. Paramore, Lil Nas X, P!nk, Red Hot Chili Peppers, The Chicks, SZA, Kacey Musgraves and Flume will headline this year's Austin City Limits festival, scheduled to return on the weekends of Oct. 7 and Oct. 14 at Zilker Park in Austin, Texas.
The eclectic lineup will also feature Diplo, ZHU, Nathaniel Rateliff and the Night Sweats, Billy Strings, Wallows, Jazmine Sullivan, Tobe Nwigwe, The War on Drugs, Spoon, Conan Gray, Goose, Oliver Tree, Lil Durk, James Blake and Phoenix.
Both weekends will see performances from Jazmine Sullivan, Conan Gray, Omar Apollo, Japanese Breakfast, the Marías, Pinkpantheress, Arlo Parks, Noah Cyrus, Robert Glasper, Benee, Samia, the Midnight, Diplo, Wallows, and more.
Among the acts appearing exclusively during weekend one, spanning Oct. 7 through Oct. 9, are James Blake, Lil Durk, Carly Rae Jepsen, Goth Babe, Aly & AJ, Role Model, MUNA, Isaac Dunbar, Gayle, Slayyyter, and more. Weekend two, scheduled for Oct. 14 through Oct. 16, will host performances by Phoenix, Yungblud, Princess Nokia, Wet Leg, Lucky Daye, the Front Bottoms, Tom Odell, Glaive, Sloppy Jane, and more.
Three-day ticket sales for both weekends of the 2022 Austin City Limits festival begin Tuesday at 12 p.m. CT via the official ACL website. Single-day tickets will be made available later this spring.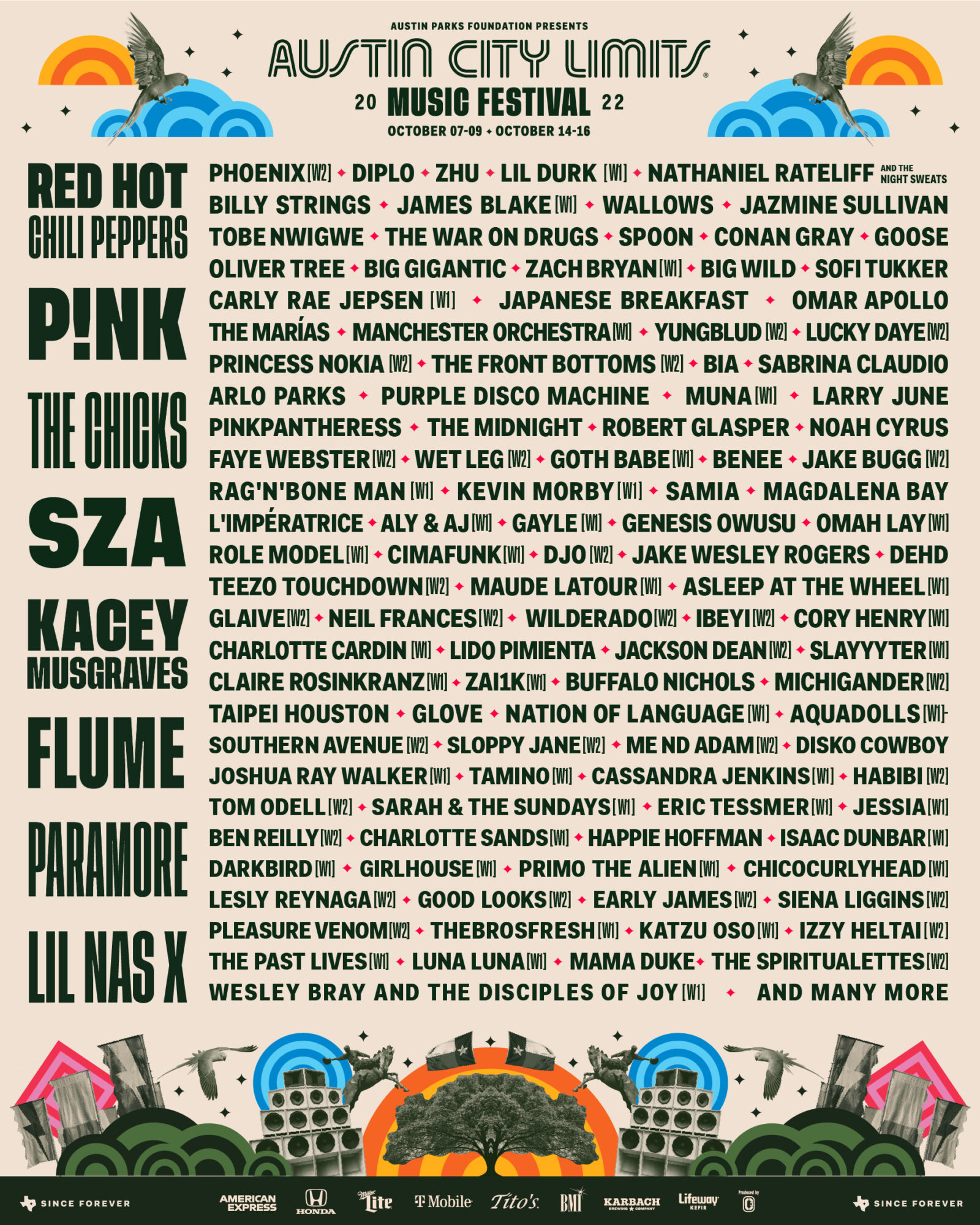 Heading To SXSW? Must See Bands – 2022 Playlist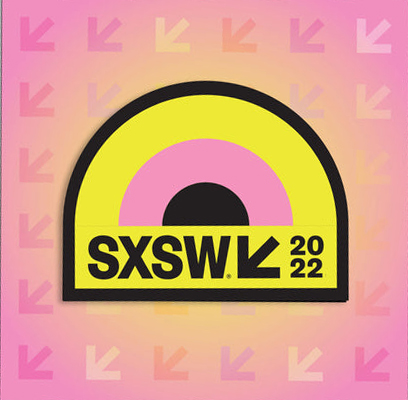 With over 2000 bands at SXSW it's hard to decide. Check out our list of one to watch.
Finally!!! Austin City Limits Music Fest Returns And Fans Packed The Sold Out Event
This year marks the Austin City Limits Music Festival's 20th anniversary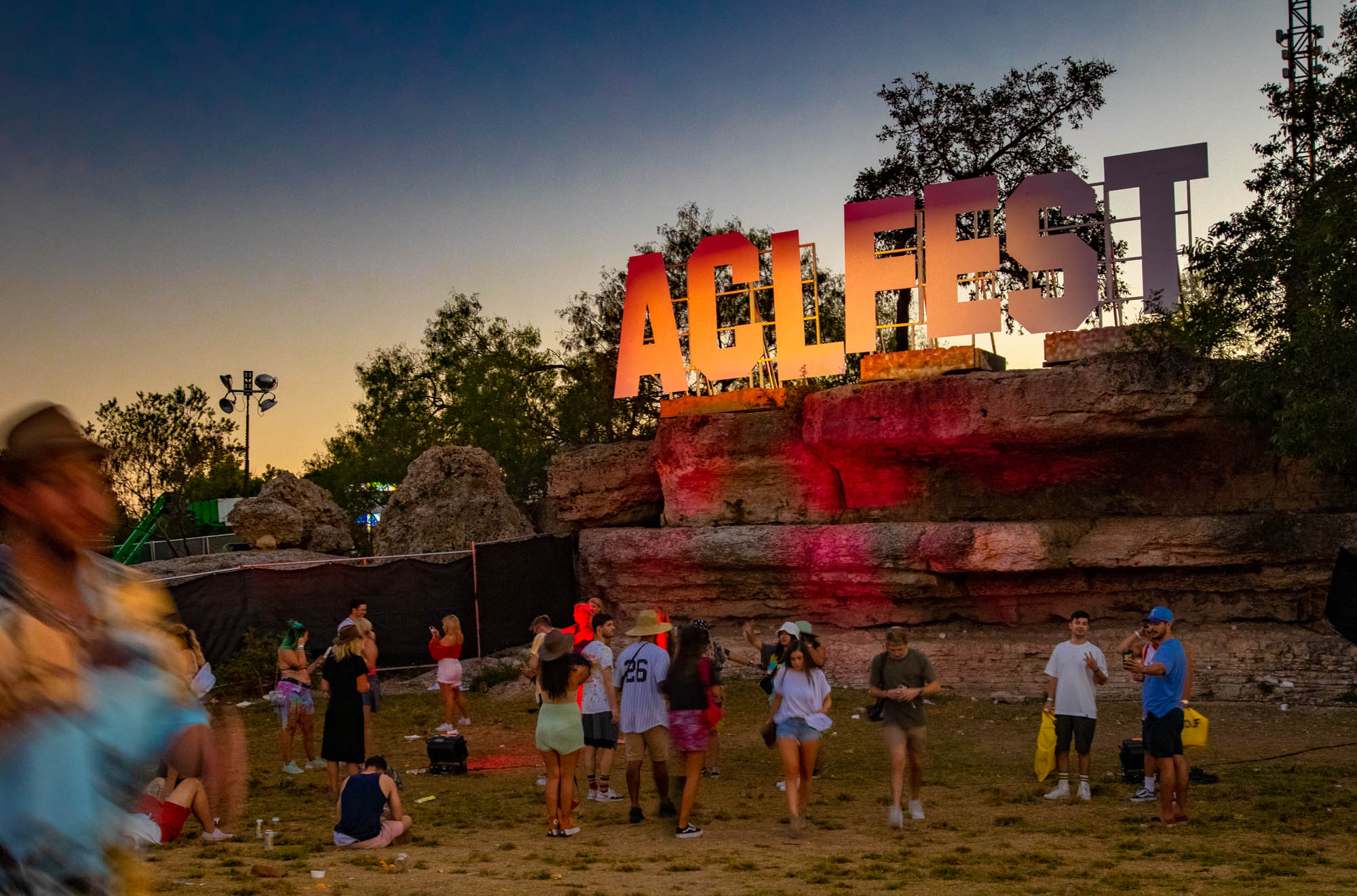 The "Live Music Capital of the World" — Austin, Texas has spent a long portion of the pandemic eerily quiet, but that all changed with the return of the Austin City Limits Music Festival. Following a virtual festival last year, 2021 marked the festival's 20th anniversary. Featuring headliners Billie Eilish, George Strait, Miley Cyrus, RÜFÜS DU SOL, Tyler, the Creator and Duran Duran, 75,000 festivalgoers flocked to Zilker Park each day for the sold-out event.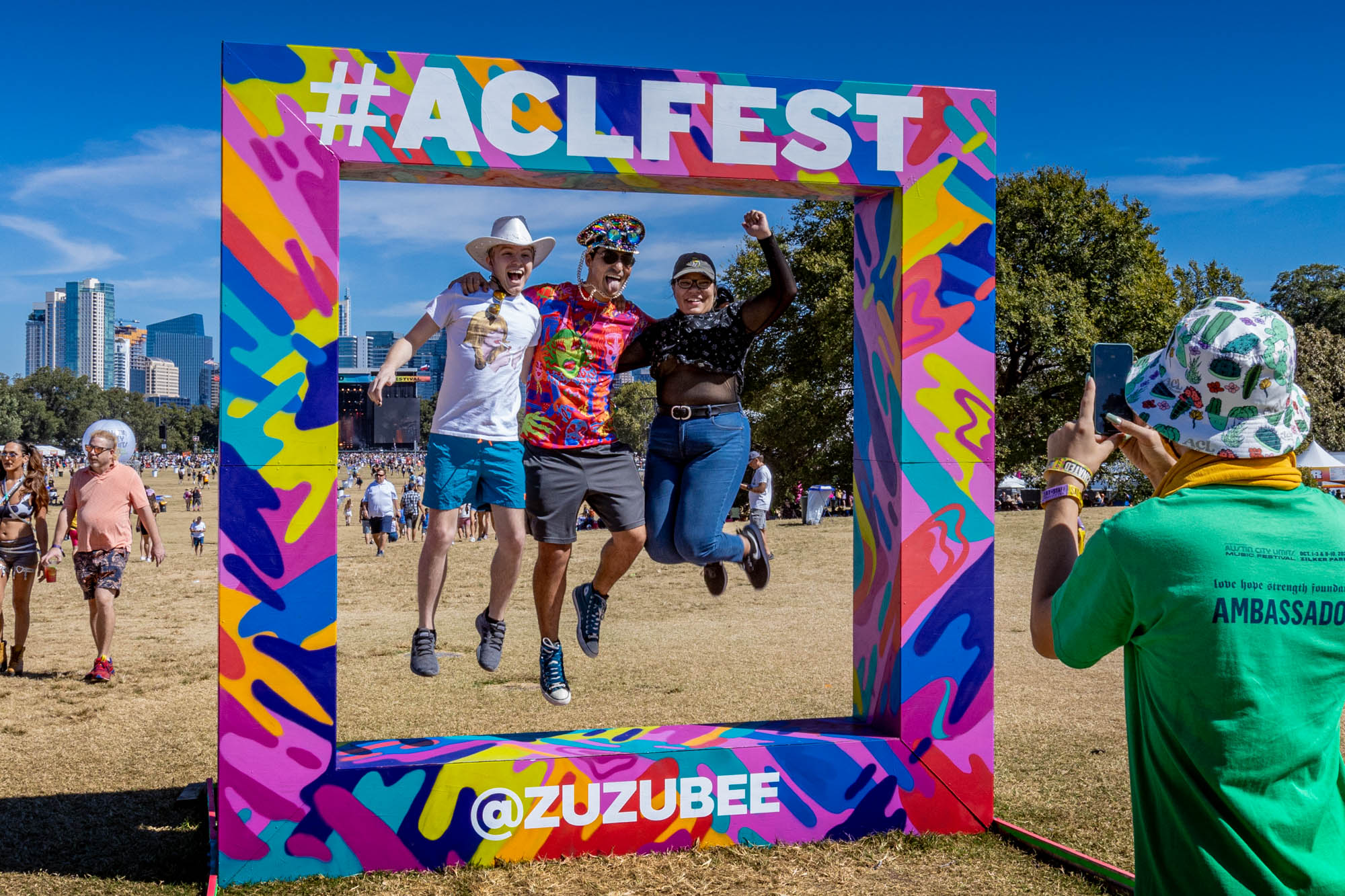 Even before the festival began, artist issues arose. Original headliner Stevie Nicks cancelled all of her 2021 shows due to COVID-19 concerns — stating, "These are challenging times with challenging decisions that have to be made. I want everyone to be safe and healthy and the rising Covid cases should be of concern to all of us. While I'm vaccinated, at my age, I am still being extremely cautious and for that reason have decided to skip the 5 performances I had planned for 2021." Duran Duran was brought in to replace Nicks.
Festival organizers, C3 Presents decided to drop DaBaby from its lineup after homophobic and misogynistic statements he made at Rolling Loud in Miami. During his performance, he went on a tirade targeting gay men, mocking them for having oral sex and insinuating that those living with HIV/AIDS are unclean. They later announced that he'd been replaced with Tyler, the Creator.
2021 saw ACL's most female-forward lineup in it's history, meanwhile the Texas Legislature passed the most restrictive abortion law in the country. Known as Senate Bill 8, bans abortions as early as six weeks into pregnancy by allowing private citizens to sue abortion providers and anyone else who helps a woman obtain the procedure. The law doesn't include exceptions for victims of rape or incest. Texas Gov. Greg Abbott signed the legislation in May, and it took effect last month.
Throughout the weekend the women of ACL took advantage of the stage to express their feelings towards the law.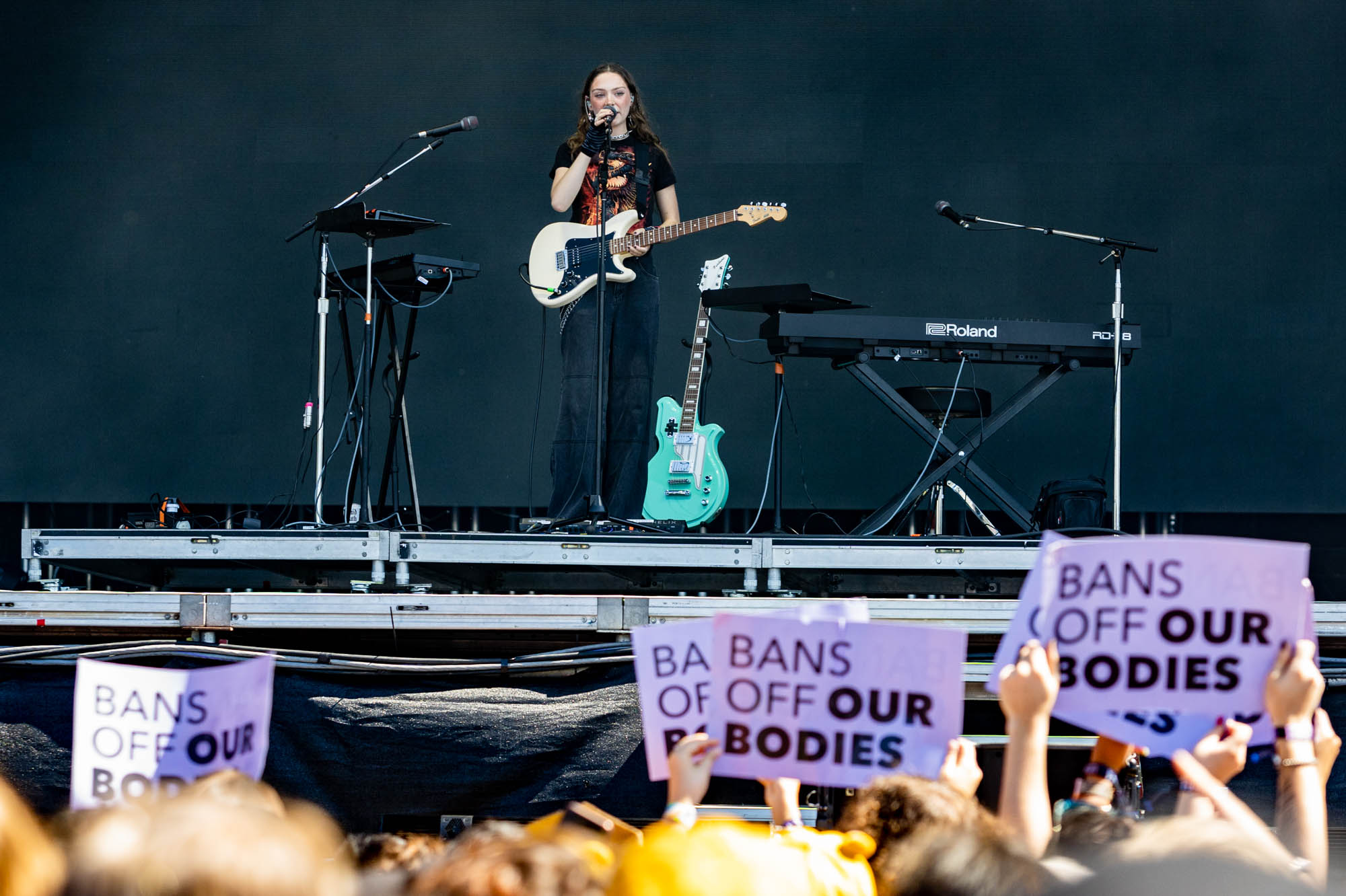 Billie Eilish used her time on stage to speak out after sitting on stage with her brother Finneas for Your Power, an acoustic track about an abusive relationship which includes the line "Try not to abuse your power". She blasted the men in power in Texas, stating "You know who should not be making a choice for my body! A fucking dirty old man". The crowd responded with resounding cheers. Then Eilish had her fans raise middle fingers and led a chant of "My body, my choice" then ending her diatribe with "If you're a man, like, literally shut the fuck up". Her fans frantically agreed.
Megan Thee Stallion put her middle finger up and announced to the crowd, "This middle finger is also to these motherfucking men that want to tell us what the fuck to do with our body." The Houston native added, "Cause how the fuck you gonna tell me what to do with my motherfucking body? Drop that shit."
Phoebe Bridgers had a very clear message for the Governor, "Suck my dick, Greg," then played a cover of Bo Burnham's That Funny Feeling, with proceeds benefiting Texas Abortion Funds. Gracie Abrams stated, "I just think it's very clear that our generation will not be dragged backwards, and I think we need to make our voices very loud and inconvenient for those who do not believe in our right to choose what is best for our bodies".
Politics aside, the ACL Music Fest proved itself to be a celebration of self-expression both on and off stage. Festivalgoers of all types flooded the park colorfully dressed in everything from leather bodysuits and Teletubbie costumes to 70's disco attire and light-up capes. Possibly promoting their desire to look cool but most likely just feeling free enough to wear whatever they want.
DAY ONE
Friday afternoon kicked off with Claud, a singer-songwriter with a dreamy, low-fi style who recently signed to Phoebe Bridgers' record label, Saddest Factory and released their debut album, Super Monster.' Performing solo wearing a Texas Stars jersey on the VRBO Stage left Claud vulnerable but they embraced the moment while exuding an emotive energy. Definitely one to watch.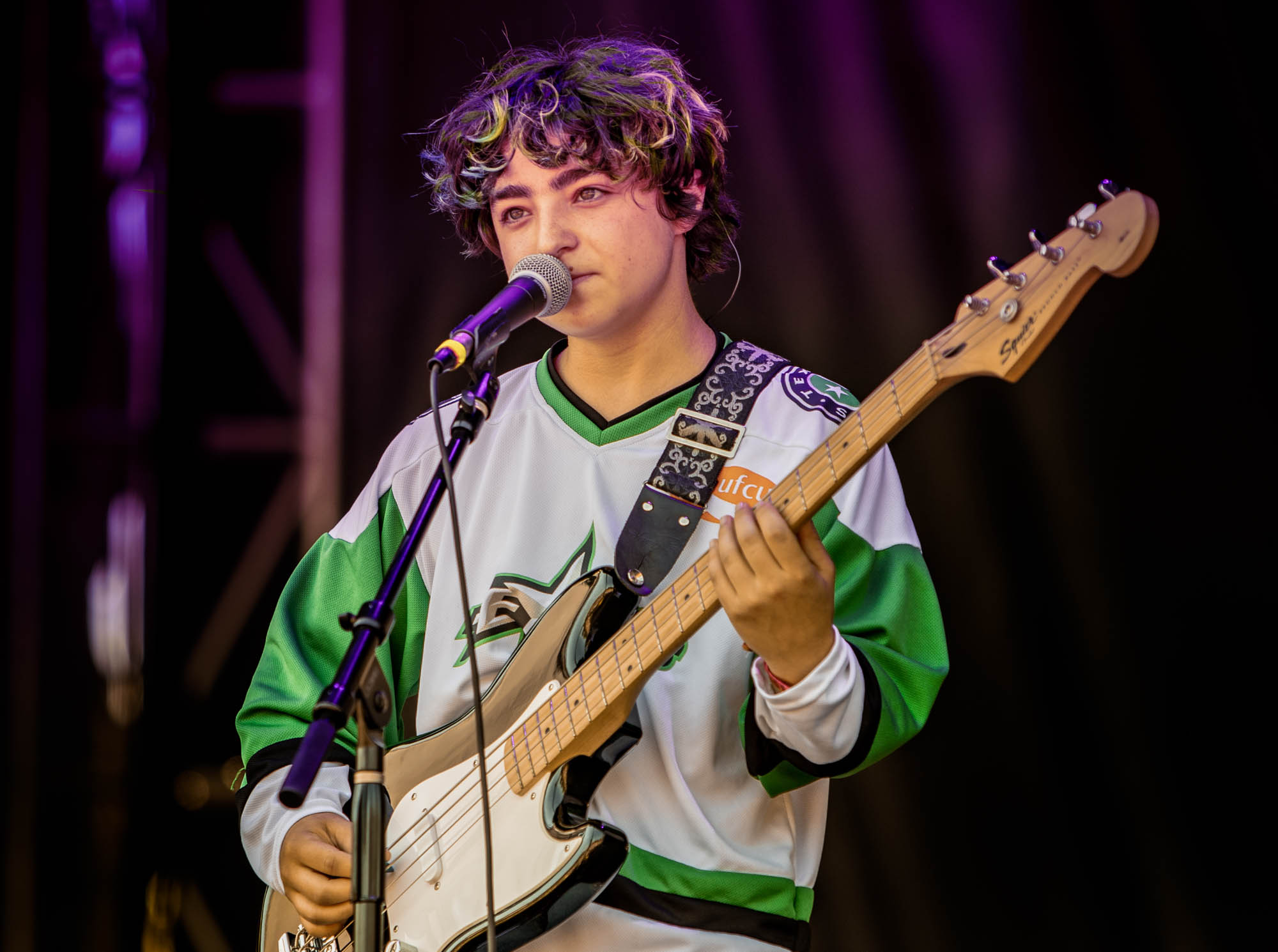 Last month Heartless Bastards released their sixth album, A Beautiful Life, following a six year hiatus. Fronted by the ever positive Erika Wennerstrom she reminded us during the set that, "It's a beautiful life if you let it be." The band focused on songs from the new album which were well received by the audience. The standouts being How Low, Revolution and The River. The set finale Parted Ways was cut short when the audio system was cut with about 30 seconds left in the song. They powered through finishing the song in true rock n' roll fashion.
While showing a deep appreciation for his reggae roots, Skip Marley is not happy just following in his grandfather's footsteps. The Grammy-nominated singer-songwriter's Higher Place is proof of that. His set contained modern reggae hip-hop styled tracks like, Slow Down and That's Not True, which got the crowd swaying and the Bob Marley classics like Three Little Birds made for a phenomenal show.
Pop-punk artist Machine Gun Kelly did not disappoint his fans with his dynamic set. First rising out of a pink prescription bottle on stage, later climbing over 100 feet atop the stage scaffolding and while hanging upside down he continued singing Nothing Inside. He also sang hits like Bloody Valentine and All I Know, and covered Paramore's Misery Business, all to the crowd's delight.
Sporting a faded tye-dye suit, Finneas looked confident as he strutted around the stage singing his rom-rock style songs to the crowd. This style is nothing like the retro-futurist pop he creates with his sister Billie Eilish but it definitely has its place. He performed fan favorites like; Angel, Let's Fall in Love for the Night and I Lost a Friend, as well as tracks from his latest album Optimist. It was a powerful set and a defining moment showing that he is not just "Billie Eilish's brother."
The saying, "Everything is bigger in Texas," certaining held true for Megan Thee Stallion's performance. The Houston diva hit the stage running while adorned in a sequined black two-piece with tassels, knee-high boots and a cowboy hat. She urgently called out to the crowd, "If you a real hottie let me hear you say 'real hot girl shit'!" The hot girls were everywhere and they screamed with delight. The magic of Megan is that she makes everyone feel like a hot girl no matter who you are. Megan hit her classics, Body, Sex Talk, and Savage.
While performing her song, Captain Hook, she brought fans onstage for the experience of a lifetime. Closing with the unapologetic Thot Shit, she had hot girls and hot boys get their "hands on my knees shakin' ass on my thot shit," as the tightly packed crowd heaved in bliss.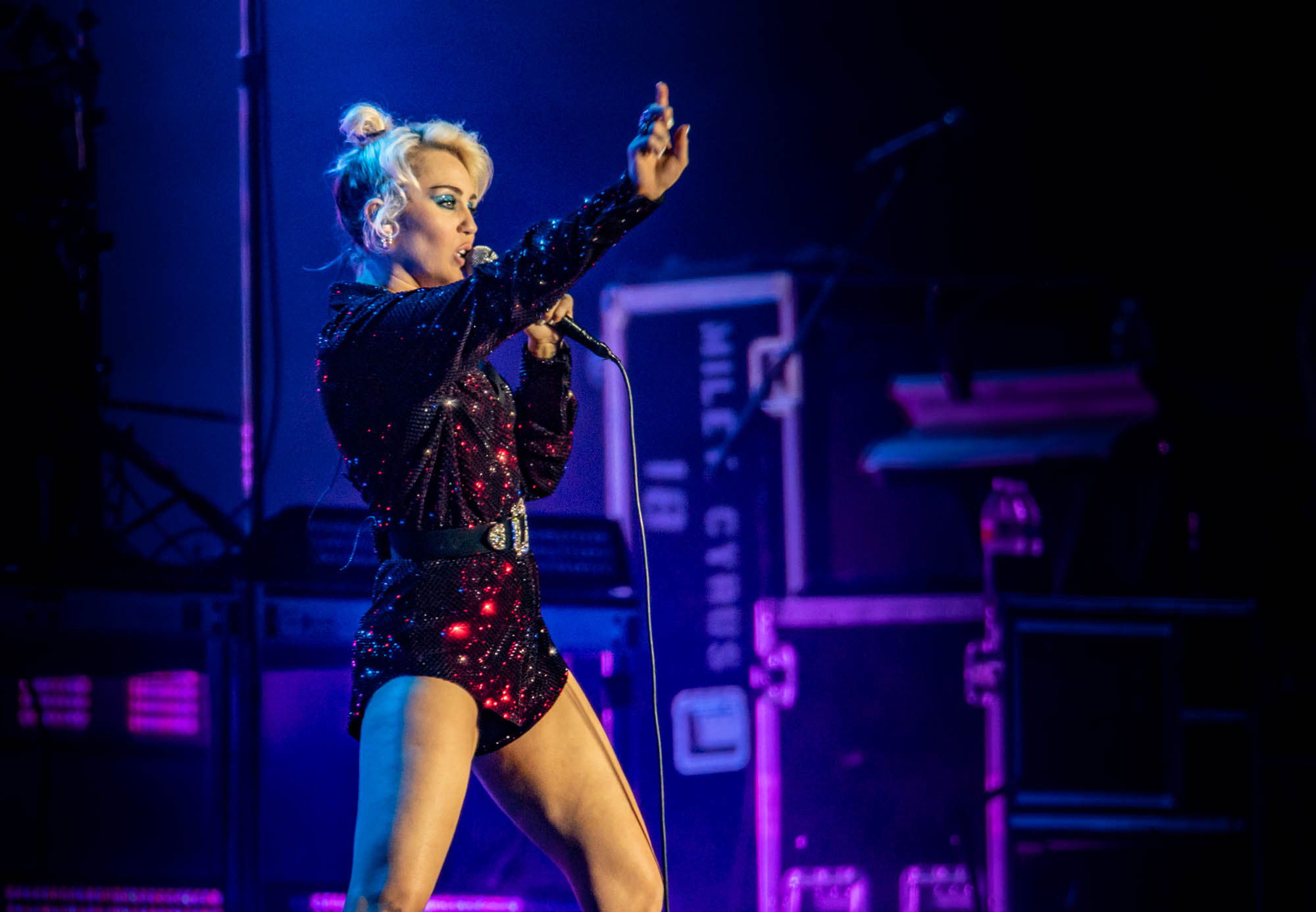 To say Miley Cyrus' set was memorable would be an understatement, it was near perfect and will be remembered as one of the best ACL performances ever! Not only was her 90-minute set majestically sung but Miley's stage presence, her crowd interaction and setlist was spot on. Sure she opened with We Can't Stop and closed with Wrecking Ball and Party in the U.S.A., that's to be expected. It's what happened in between that made the show so special. Her conversations with the fans were unabashedly authentic, "For you and for me, as different as each of us are, we have one thing in common, right now. My morning mantra was that 'change is constant,'" she said. "I think you guys tonight are an amazing example of that mantra coming to life."
The music choices took fans on a journey, Miley's personal growth over the years.The first half of the set included tracks from her latest album Plastic Hearts and then transitioned into a rap / hip-hop session with SMS (Bangerz), Dooo It!, Love Money Party and 23, a Mike WiLL Made‐It cover which definitely set the place on fire. To calm the fever she performed Malibu and Nothing Breaks Like a Heart, a Mark Ronson cover. And then did an amazing cover of Maybe from Texas' beloved Janis Joplin. Prior to her performance she talked about how she has grown as a person and an artist. "I've experienced an evolution in front of all of you…sometimes I am brazen and sometimes I am courageous and sometimes I'm not apologetic and sometimes I don't give a fuck but sometimes I'm the opposite of all of those things, sometimes I'm scared, sometimes I'm anxious, sometimes I'm sad, sometimes I care too much, sometimes I'm sorry for shit that I should be sorry for and sometimes I'm just fuckin' sorry." Then she proceeded to rock the song like none other than Janis herself. It was an awe-inspiring rendition.
The last half of the show was a flashback to early Miley with 7 Things, See You Again and a Cher cover, Bang Bang (My Baby Shot Me Down). But the song that received the most "phones up" attention all night was The Climb from Hannah Montana: The Movie. It became very apparent the majority of the crowd have been lifelong Miley lovers. A true testament to Miley Cyprus' raw talent and commitment to her craft.
DAY TWO
Self-described as "dark, wonky, electric pop," British singer-songwriter Holly Humberstone's songs speak uncomfortable topics such as ex-boyfriends and sisters struggling with depression. This 21-year-old pandemic breakout star is often compared to Lorde but is certainly charting her own path.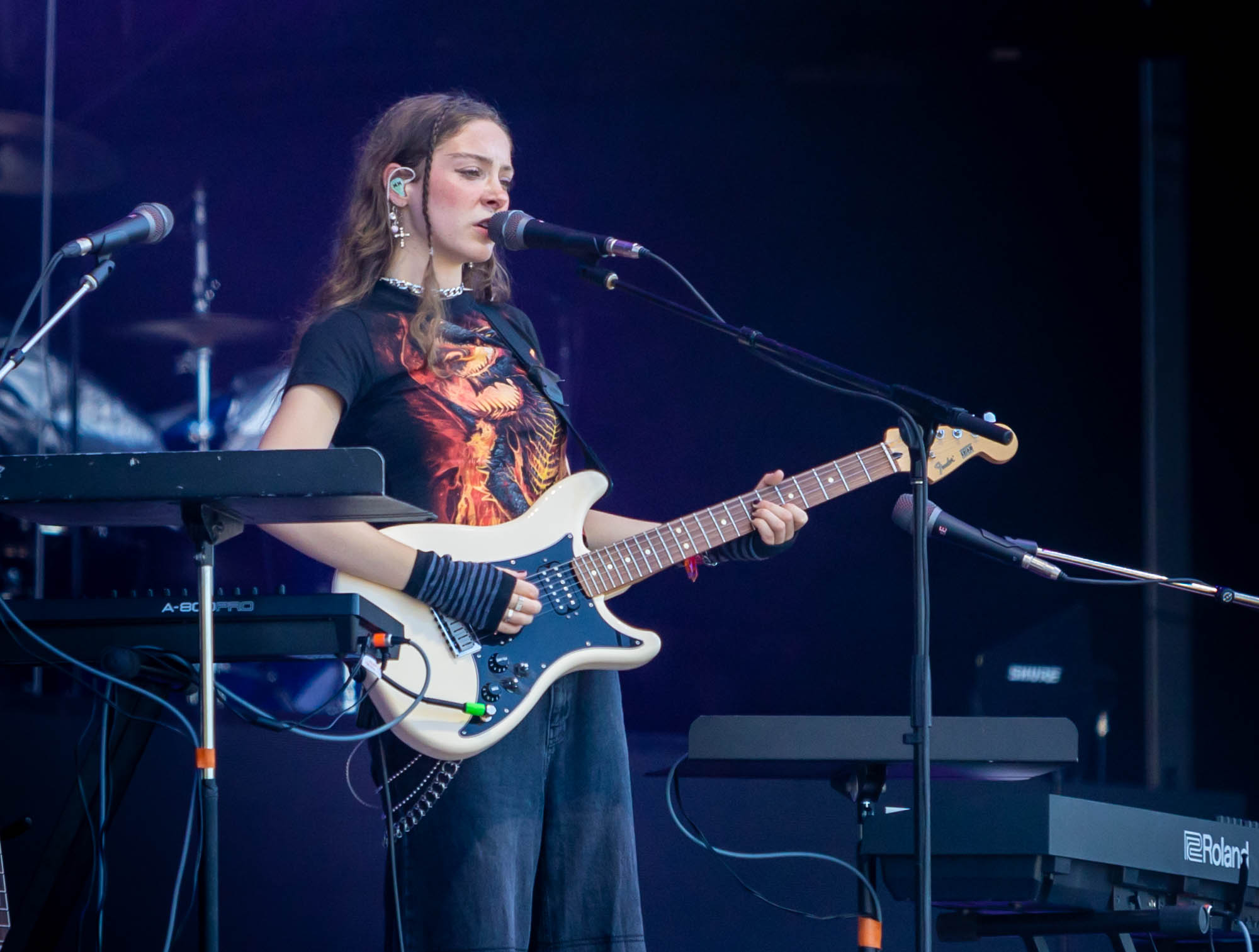 Having built a huge following through a series of singles like "Mean It" and "21," Gracie Abrams explained that she tried to avoid performing because it brought her so much anxiety. "This is the first run of shows I've done in my life," she said, with ACL being her 10th show ever. That being considered appeared calm and in control on stage.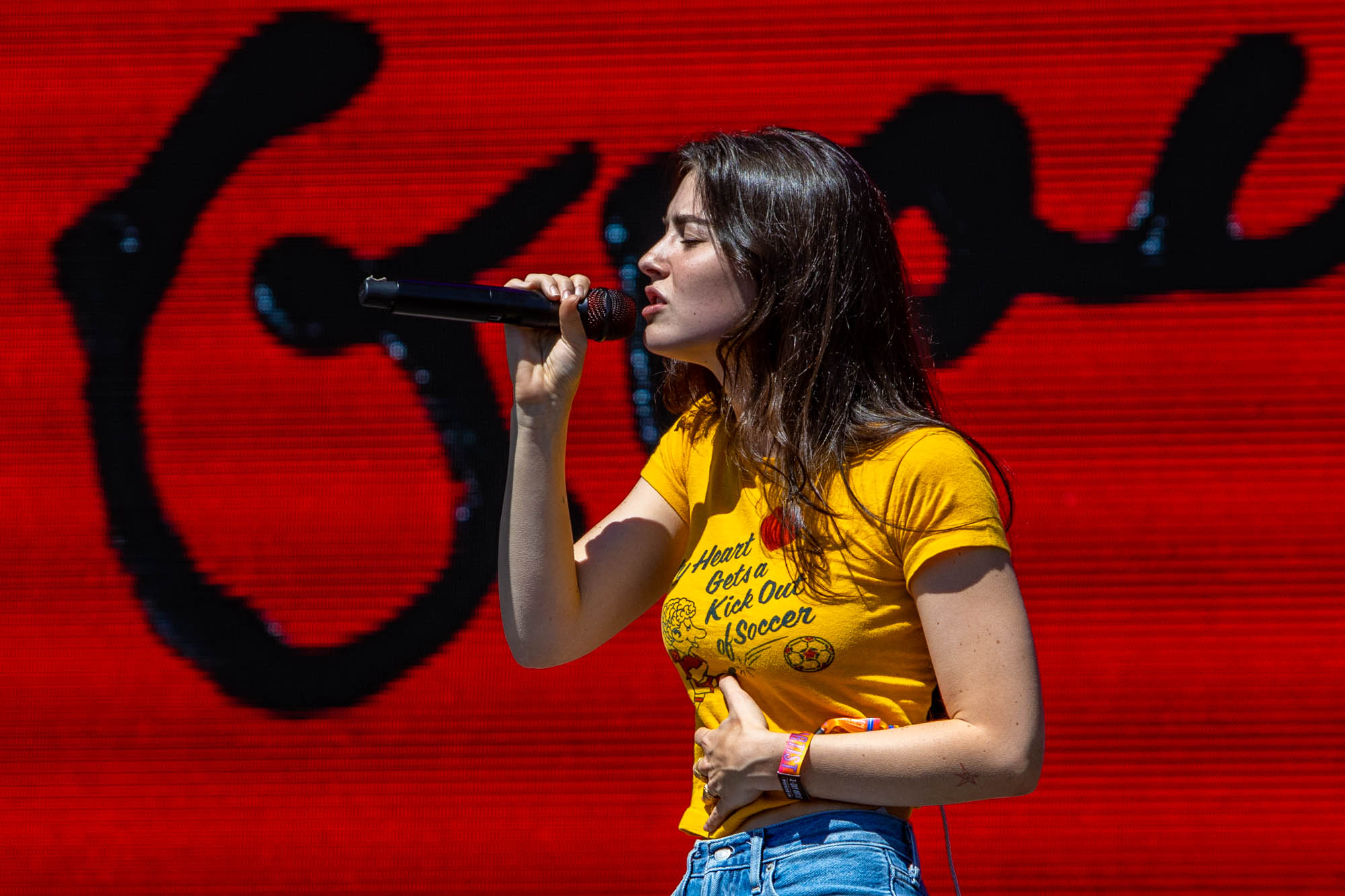 Marie Ulven, aka girl in red openly admits her semi-neuroticism stating, "Nice people do shitty stuff. Let's normalize being fucked up. We need more room to go and do shitty stuff and realize we fucked up." Her stage presence gives off a chaotic energy that is endearing while her lyrics speak about infatuation, heartbreak and mental health. Her raw honesty took it toll as she ended the show with, "I'm gonna go lie down now."
In lieu of her familiar black skeleton onesie, Phoebe Bridgers wore a black and gold skeleton beaded blouse and black pants to deliver her "sad girl" indie folk to the Pharbz at ACL. The band performed all of her emotionally heavy songs from the phenomenal album Punisher, except the October appropriate Halloween. The fans sang along, sometimes cried and totally embraced each tracks sadness, regret and haunting beauty. Phoebe's overall stage presence and banter, "I think this is the only time in my career I'll open for Doja," was second to none. The set ended with I Know The End which means an ample amount of screaming and guitar bashing but right as the band geared up for the climax, ACL cut the audio, which created an awkward silence but the band kept rocking till the end then Phoebe kicked the mic stand and walked off. Moments later she tweeted a pointed message to ACL: "lol fuck acl." ACL later owned up to its mistake and donated to an organization close to Phoebe's heart, the Texas Abortion Fund and she took down her tweet.
The stage design contained otherworldly tropical flora with a video screen backdrop displaying ever changing fantasy jungle scenes. The ethereal theme was finished off with Doja Cat's forest goddess ensemble, a sultry cutout top, shredded harem pants and platform ankle boots. The rapper-singer-TikTok star ruled the stage with her brilliant troupe of dancers and their Beyonce-esque precision.
The rhyme-slinger ripped through her hits, Rules, Juicy, Like That, Get Into It (Yuh) and Talk Dirty, to get the frenzied group of fans fired up, including celebrities Shawn Mendes and Finneas. Mid-set Doja Cat announced, "I brought a toy," and grabbed a red autotune mic, launching into a truly powerful version of Bottom Bitch. Doja Cat moved to an electronic drum kit, hitting the pads to play a vocal loop which led into a definite fan favorite, Tia Tamera. With fans singing along and phones up, the party got real. The show closed with Say So and an introduction of the band as she disappeared behind the stage.
The 7:00 pm time slot on Saturday at ACL has magical powers. In 2013 a young Kendrick Lamar blew up the park with a massive crowd, then in 2019 Lizzo did the same thing, only bigger. Maybe it's just that everyone has arrived for the headliners and end up in one place or maybe it's destiny. Who knows but it happened again with Jack Harlow. Just as the sun set on the Austin skyline, a capacious crowd gathered around the Miller Lite Stage. Thick smoke blankets the stage and Jack walks out of the Crème de la Crème cafe and breaks into Tyler Herro. He was taken aback by the hordes, "Oh it's packed. We gonna have a party tonight. I've been to Austin a few times, but I've never had this many people in front of me."
Rocking a grey tracksuit, the charismatic rapper ran around the stage constantly, performing his hits. Jack asked the crowd, "You mind if we do the biggest song in the world right now?" he asked before jumping into INDUSTRY BABY, his new collaboration with Lil Nas X. He did make one faux pas by asking the crowd, "Did Texas win today?" Which was followed with unrelenting boos and jeers as the Longhorns had lost to Oklahoma 55-48 earlier that day. The set ended with WHATS POPPIN and Jack giving an ambitious message to his fans, "Next time I see you, I'm gonna be the biggest name on that fucking flyer."
For the second year in a row, pop superstar Billie Eilish took on the Lady Bird Stage to close out Day 2 of ACL. As thousands of young fans screamed wildly, she leapt onto the stage under strobing lights and billowing puffs of smoke, rocking pigtails and dressed in her signature baggy clothes. The high energy set kicked off with bury a friend, as a giant spider crawled across the big screen behind her, then pivoted into You Should See Me in a Crown before flowing into the dark I Didn't Change My Number. While expressing that this was her last show of the year, she asked her fans to "just bounce around." They did so eagerly as she played a fiery rendition of Therefore I Am. Then she directed them to put their phones down and look at her in the face. She encouraged them to "be in this moment. Let's be grateful to be alive and well and safe and with our friends right now," she said before playing When the Party's Over. A platform lowered to the stage, Billie climbed in and it raised her into the air and over the audience, where she hung precariously over the railing while performing everything i wanted. She returned to the stage and stated, "We have to do better with how we take care of our planet," before she began all the good girls go to hell. Shortly after Billie became distracted by a cricket that had jumped on the stage and attempted to coax it off the stage and joked after her song, "I think the cricket heard me talk about saving the world." Billie introduced her brother Finneas to the crowd, then he picked up an acoustic guitar and sat beside her as they performed a mellow version of Your Power. To end the show on a high note, Billie fired off a passionate version of Bad Guy, told the audience"I just adore you," and wrapped the set with Happier Than Ever. Billie Eilish's stage presence is natural, energetic, suspenseful and a joy to watch.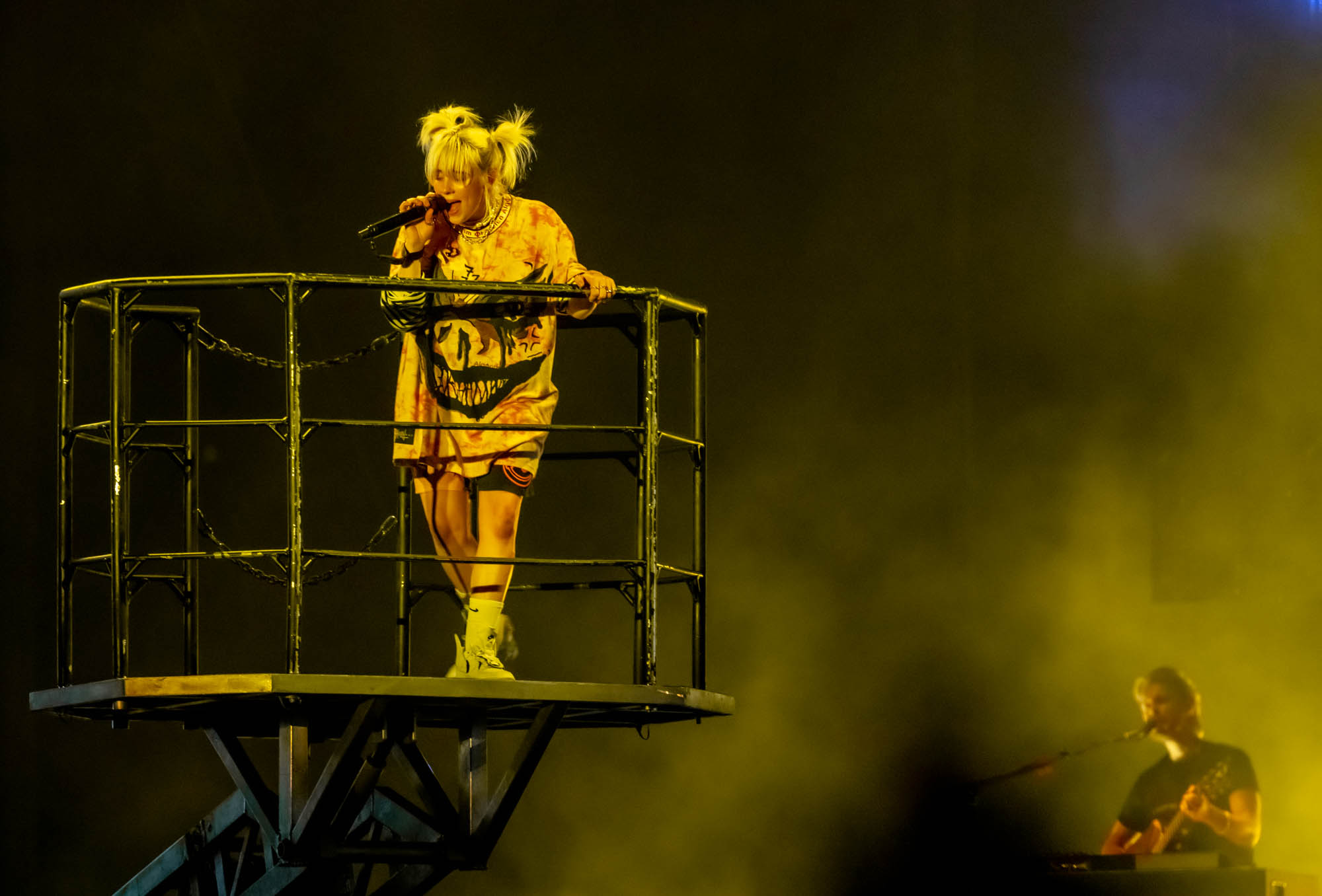 DAY THREE
Fresh off the release of his COVID delayed eponymous debut album, Zach Person makes his first ACL appearance to a small but enthusiastic crowd. But when you have the noon time slot that is to be expected as much of the Sunday crowd is still sleeping. Zach's music is a mix of blues, folk and punk presented in an indie rock style. Accompanied by his drummer, Jake Wyble, this duo creates a driving wall of sound to showcase Zach's dynamic vocals. If you missed him this year at ACL, fear not, he will be back but next time it won't the the festival opening time slot.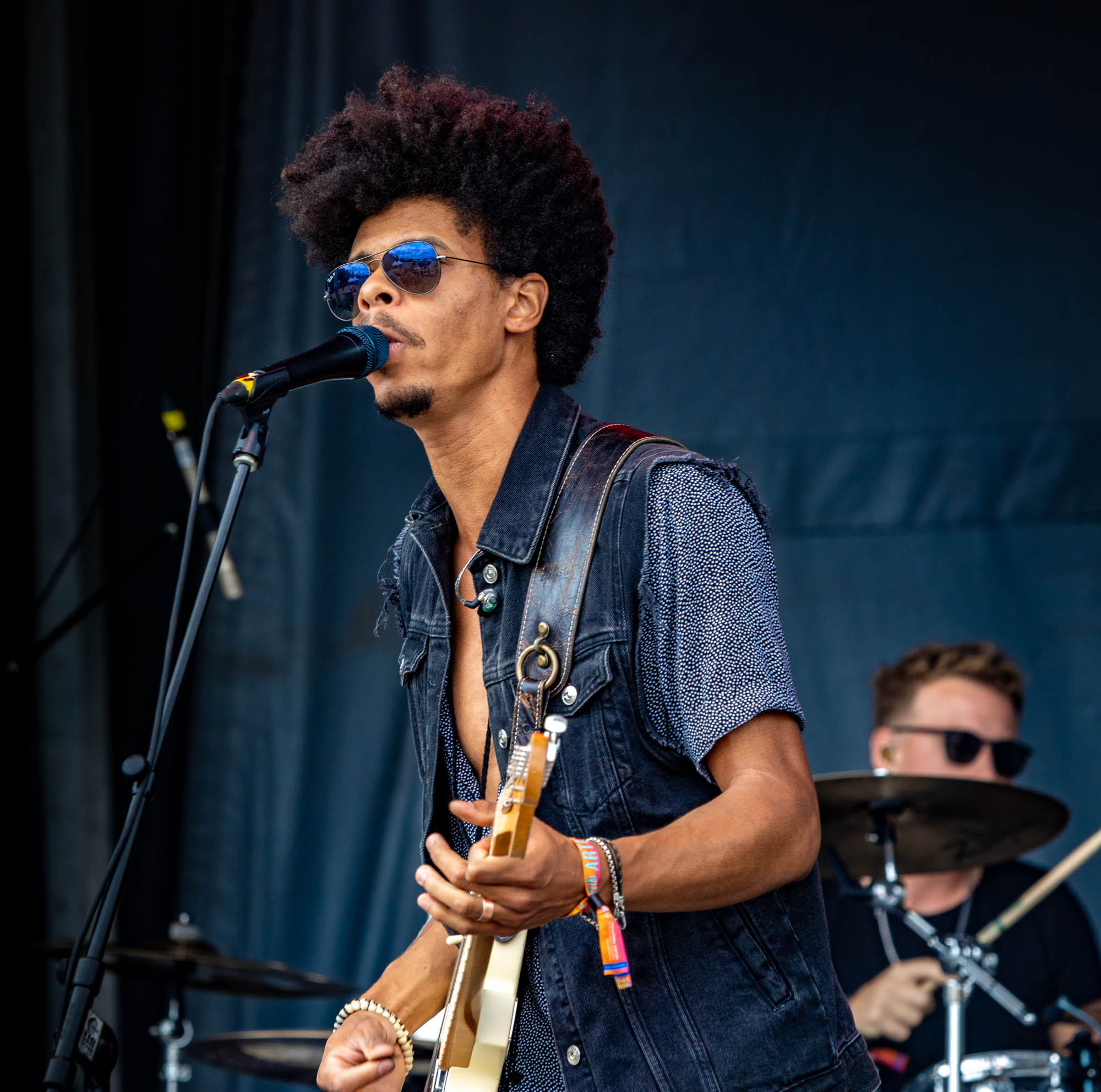 You probably have not heard of Calder Allen, he is a young Americana singer-songwriter making his ACL debut as well as his first live band gig. And he is also the grandson of renowned singer and sculptor Terry Allen. Calder's backing band consisted of keyboardist Bukka Allen (Calder's uncle), guitarist Billy Cassis (Bob Schneider), bassist Glenn Fukunaga (Robert Plant, Bob Dylan), and drummer Conrad Choucroun (White Denim, NRBQ), and fiddler Martie Maguire of the (formerly Dixie) Chicks. It was very apparent that he was having a great time on stage performing his songs. Calder is preparing to release his debut album produced by Charlie Sexton.
If you are a Gen Z artist, where do you go to spread your message, TikTok of course. That's exactly what Jessie Murph did. She has since amassed seven million followers, a Sony Music record deal and a spot at ACL (her first live performance). This 17-year-old appeared tentative at first but her smooth, sultry voice quickly warmed up and she won the crowd out. With only four published songs for her 45 minute set Jessie filled in the gaps with two unreleased tunes and covers of Tove Lo's Habits (Stay High) and The Weeknd's The Hills. The crowd of fans sang along and celebrated the opportunity to see their social media star in person.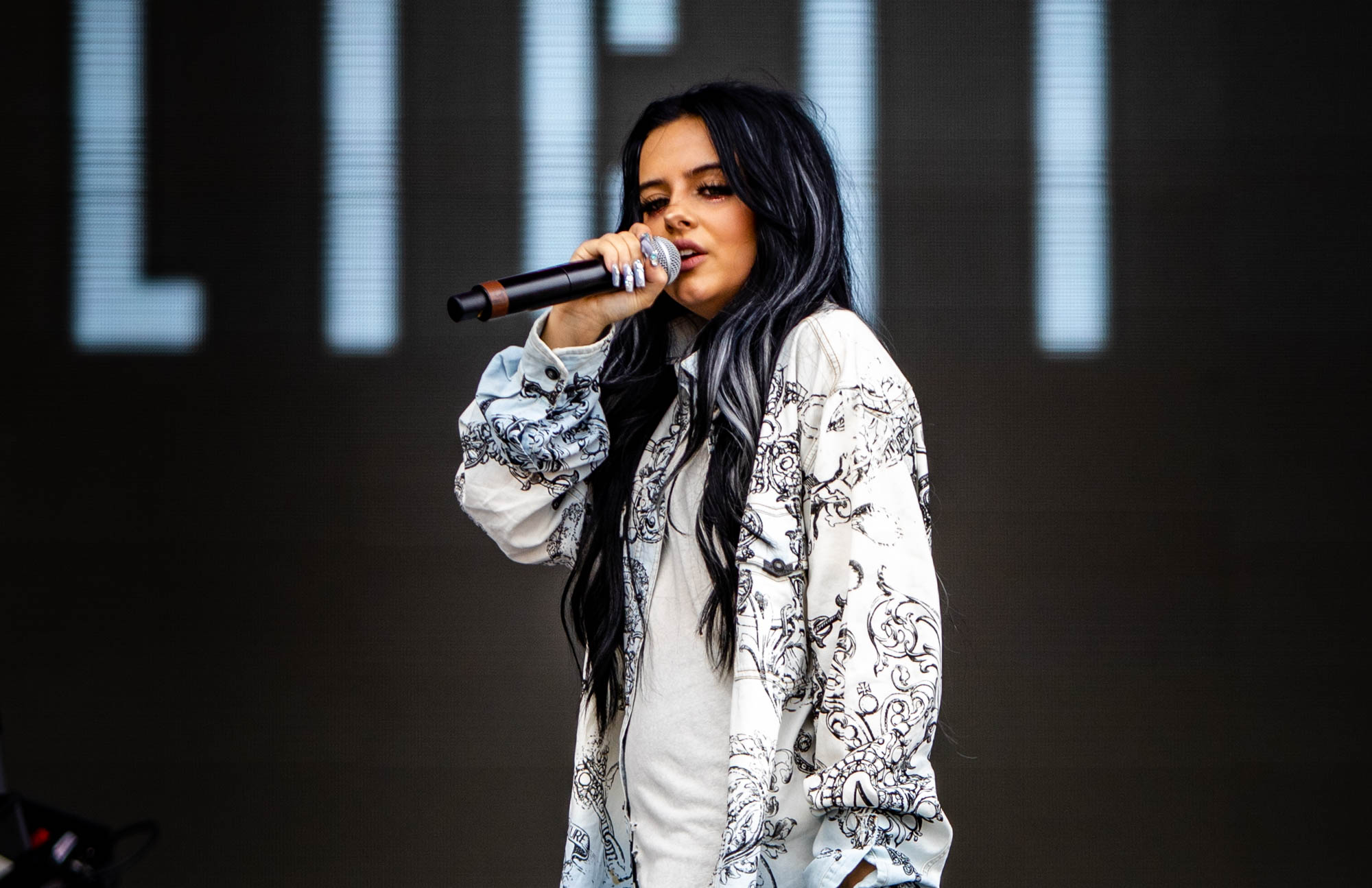 Singer, songwriter, producer, and multi-instrumentalist Cautious Clay brought his pop, hip-hop, R&B, and jazz vibes to ACL. Since the release of the megahit Cold War in 2017, Joshua Karpeh, aka Cautious Clay has continued to grow his fan base and they were there to support him. His smooth and breathy rhymes were perfect for a Sunday afternoon. His stage presence is very chill whether he's singing, playing the saxophone, flute or guitar and he always appears to be having a great time. Cautious played most of the tracks from his debut album, Deadpan Love, which was released earlier this year. But also performed older fan favorites, Joshua Tree, Strange Love, Erase, Cold War and Shook.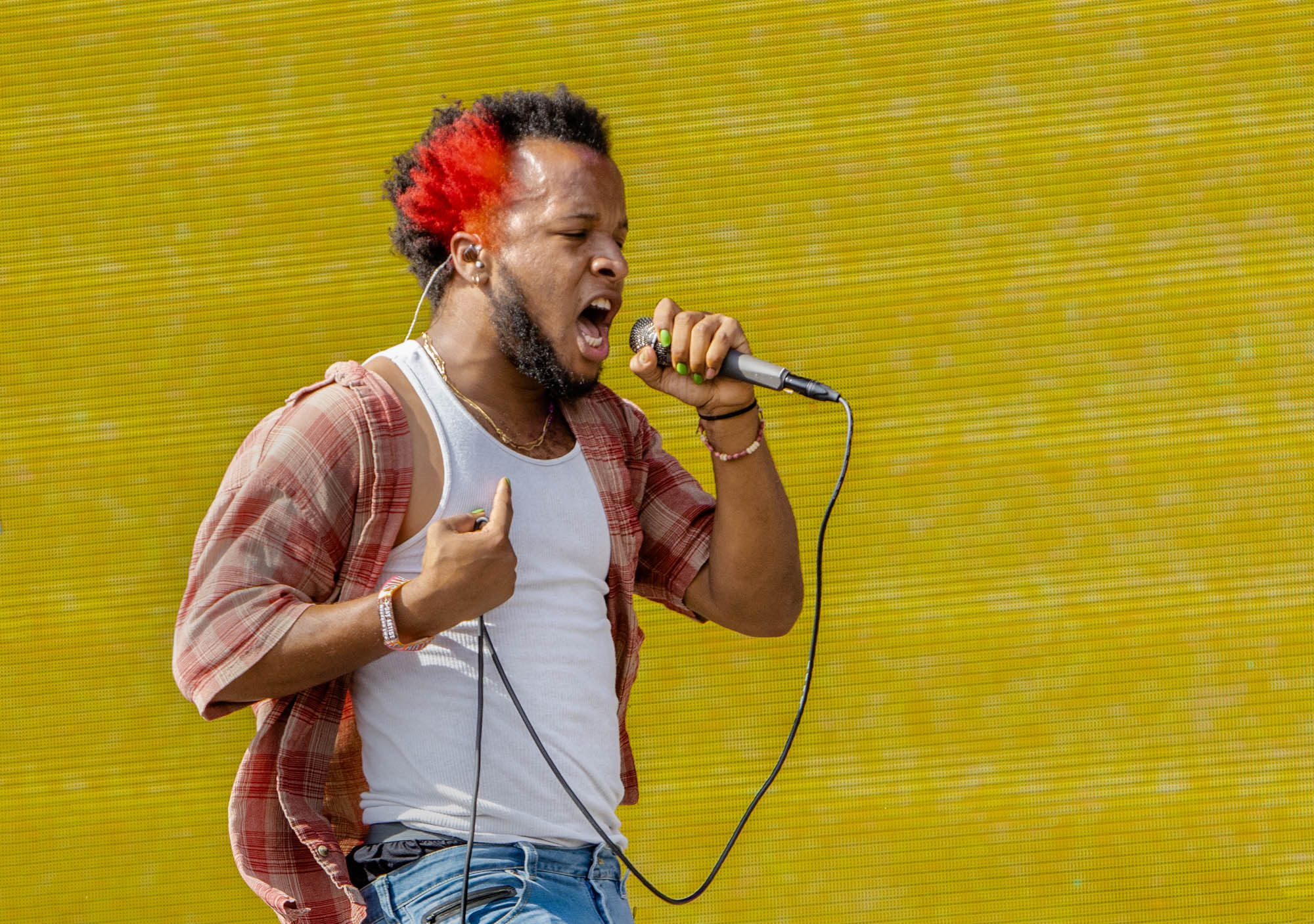 Do you want to dance, laugh, be offended, be amazed but most of all be entertained — then the Marc Rebillet show is where you want to be! Walking onstage in his customary silk robe, boxer briefs and loafers, he is like a fighter entering the ring. Dubbed the Loop Master, the entire set is improvised, his songs are based on phrases or situations that just happen between him and the crowd. Using a loop station, keyboard and microphone Marc creates each song with manic energy, full of sounds, banter, singing, thrusting, dancing, yelling and head-banging. At one point, he stripped down to his briefs, jumped onto the crowd, bodysurfing while popping a bottle of champagne to spray the audience. His dedicated group of fans came prepared with props, signature robes, and improv themes ready for Marc to interact with their material and release the kraken at his stripped-down dance party.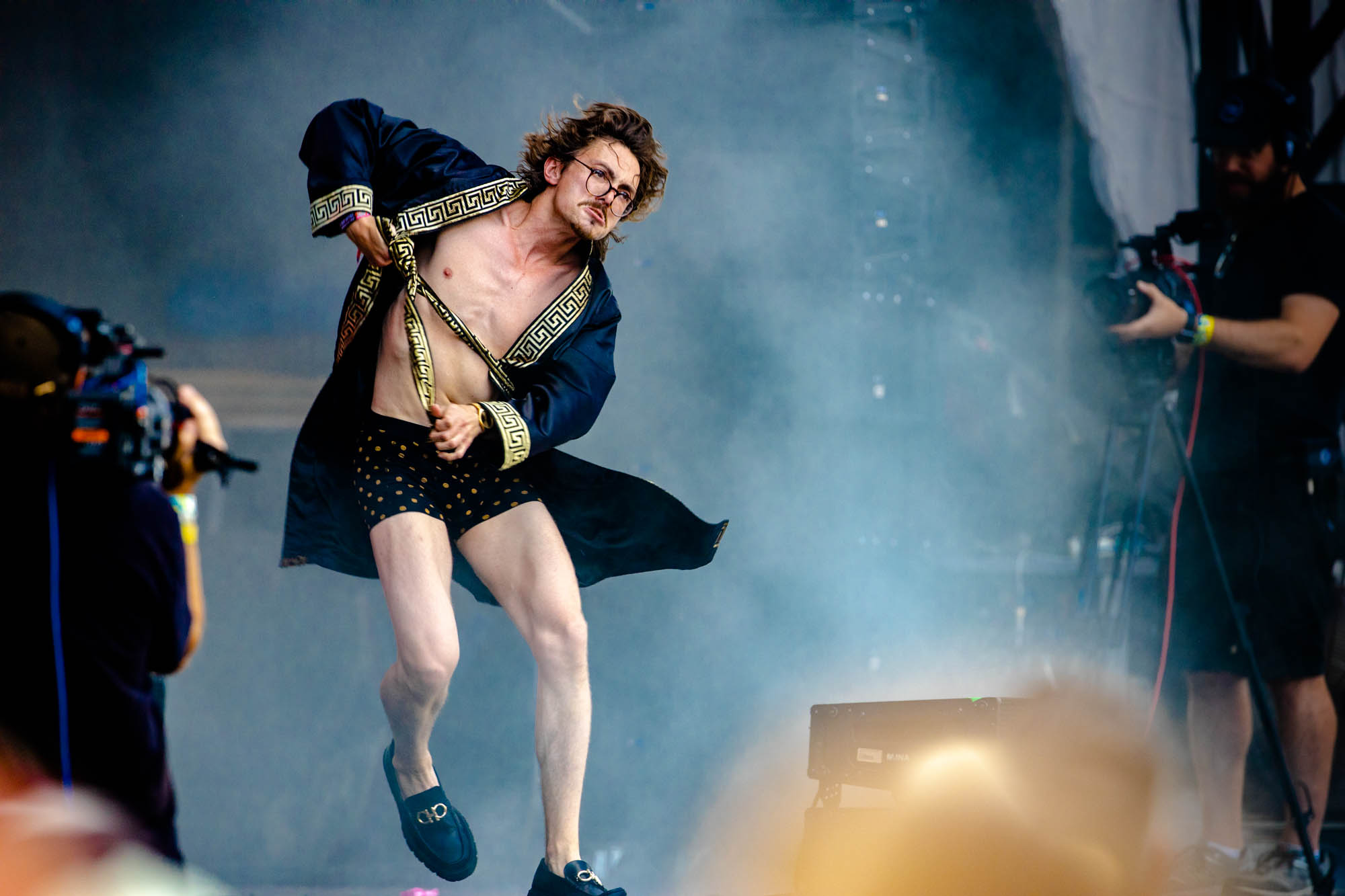 Rocking a shiny silver suit jacket, matching shorts and Air Jordan 1s — Jon Batiste brought his own brand of New Orleans jazz combined with soul, R&B, funk, gospel, hip-hop, rap, and pop to the final day of ACL. Leading the 10-piece band he took the audience to church while outer space images projected on the screen behind the stage. Jon declared, "This is more than a concert, it's a spiritual experience!" and proceeded to burn the house down! Prior to starting I Need You, Jon explained, "Hold on, we can't play this song because it's a character," then paused, put on a cowboy hat and began wailing on the piano. Hitting all the highlights from his acclaimed 2021 album We Are, he took the crowd on a musical journey steeped in his native New Orleans culture but then transcended beyond it. It's one of those shows where words can't truly describe the magical moment that happened but if you were there you felt it in your soul. Thanks Jon!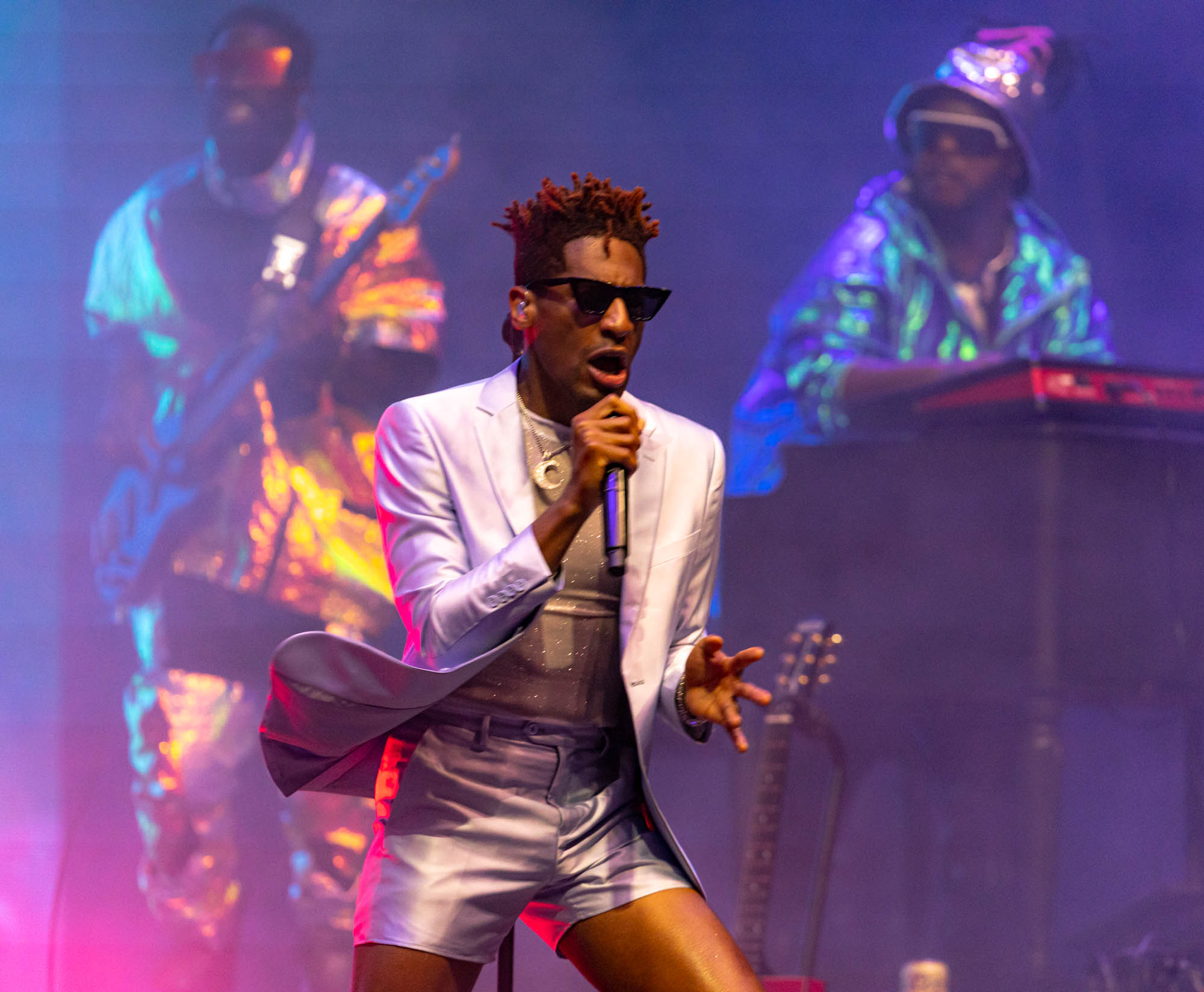 Tyler, the Creator has a long history with Austin both good and bad. First appearing South by Southwest 2011 with his crew Odd Future, they bailed on the set 12 minutes in, complaining about the sound. He first performed his breakout song, Yonkers in 2011 at a side party Fader Fort set during SXSW. In 2014 he returned to SXSW and was arrested for inciting a riot; the charges were later dropped. These controversies, as well as others, helped create his dedicated fan base. Which brings us to ACL where Tyler was brought in as a replacement for DaBaby over his own controversies.
Appearing ready for a vacation, Tyler entered the stage carrying a suitcase, his outfit included a Hawaiian shirt and khaki shorts. There was a speedboat on stage controlled by hydraulics to make it appear to be on water and a screen behind him projected waves to complete the water getaway aesthetic. The first half of the set was dedicated to tracks from his latest release, CALL ME IF YOU GET LOST, while the second half focused on 2019's IGOR album. Tyler stopped between songs to interact with the crowd, once asking, "Can y'all boo me really quick?" They immediately responded with joy and his response was, "Thank you, I needed to be humbled."
Tyler has always understood the importance of brand marketing, whether through his controversial music, how he portrays himself through social media or his own clothing label, Golf, which had a pop-up shop during ACL. He continually reinvents himself through his music and has mellowed from his early days but has always cared. Tyler closed his set by saying, "Y'all get home safe, alright. Love."