Outlaw Music Fest Brings The Heat To Dallas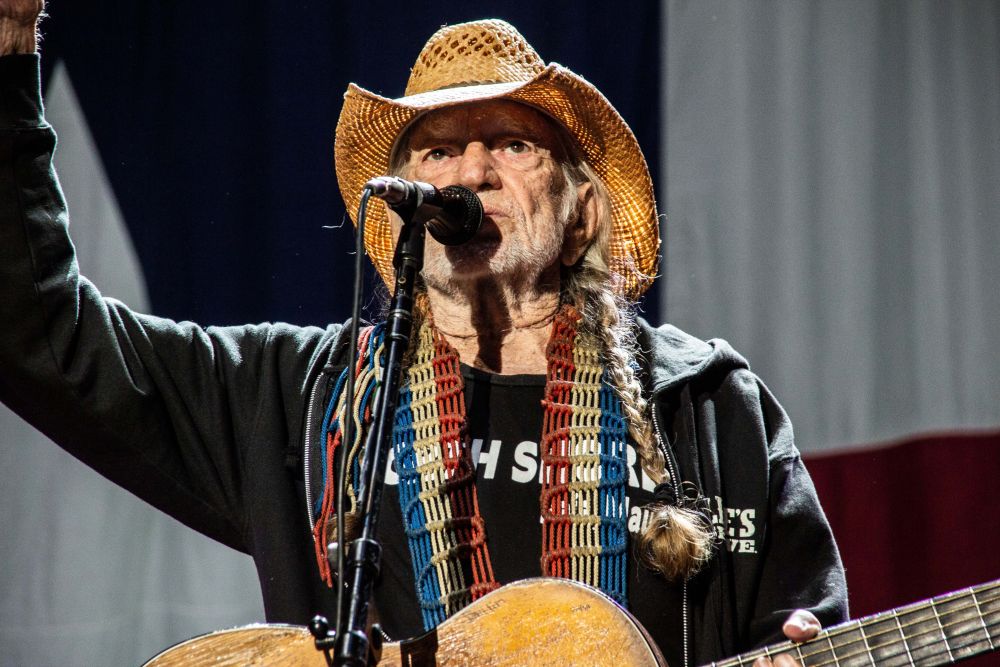 Words and Photos by Nick Paruch
It's July in Dallas and summer is here to stay, but that didn't seem to deter the country music fans who stuck out the heat and humidity throughout the nine-hour Outlaw Music Festival at Dos Equis Pavilion. This year's offering included Colter Wall, Hayes Carll, Steve Earle & The Dukes, Casey Donahew, Alison Krauss, Nathaniel Rateliff & The Night Sweats and Willie Nelson & Family.
Since the event was held on a weekday, July 3rd, the crowds slowly filtered in as folks left work anxious to start their Independence Day celebrations, so the early acts didn't receive the fan love had it taken place on a weekend. Undeterred, both Steve Earle and Casey Donahew had exhilarating performances, but it wasn't until Alison Krauss took the stage that the crowd really started to pay attention.
While almost everyone else played in front of the standard Outlaw Music Festival signage, Krauss and her band performed in front of a mock backstage, a fake brick wall complete with glowing windows and vaudeville posters. The 27-time Grammy Award winner turned the cavernous space into an intimate blues hall with merely her soulful voice and tender lyrics. Krauss enthralled the crowd with 'Down to the River to Pray,' 'Didn't Leave Nobody but the Baby,' and 'Gentle on My Mind' among others.
After a quick stage change Nathaniel Ratliff and The Night Sweats set began and the venue erupted with cheers. The band jammed on the horn riff from their latest album's opening track, 'Shoe Boot,' before Rateliff emerged, clad in dark denim, a black vest, and his signature unbuttoned shirt. Rateliff's powerful voice cut through the big band's wall of sound like a knife. The band bounced between songs from their self-titled debut album and 'Tearing At The Seams,' giving the NRNS fans the grooves that they came for. Highlights of the evening were certainly 'I Need Never Get Old,' 'S.O.B.' and 'Tearing at the Seams.'
To cap off the night, the one and only Willie Nelson, the true outlaw of the Outlaw Music Festival, came on stage, playing in front of – what else – a giant Texas flag. The crowd immediately leapt to their feet shouting, "We love you, Willie." After shaking off the rust on his opener, "Whiskey River," Nelson performed song after song, calling out to the crowd on his most popular lyrics and skillfully plucking away on 'Trigger,' his trusted guitar. The set blazed through country history and beloved icons – playing a bit of Hank Williams, 'Hey Good Lookin,' and 'Move It on Over,' and some Waylon Jennings, 'Good Hearted Woman,' with the energy and momentum of a locomotive. You don't expect an 86-year-old to electrify a crowd to life on a work night after a marathon day of music, but that's exactly what happened.
Billie Eilish, Stevie Nicks, Miley Cyrus Lead 2021 Austin City Limits Music Festival
DaBaby, Erykah Badu, George Strait, Phoebe Bridgers, Megan Thee Stallion, Black Pumas, and dozens more lined up for 20th-anniversary fest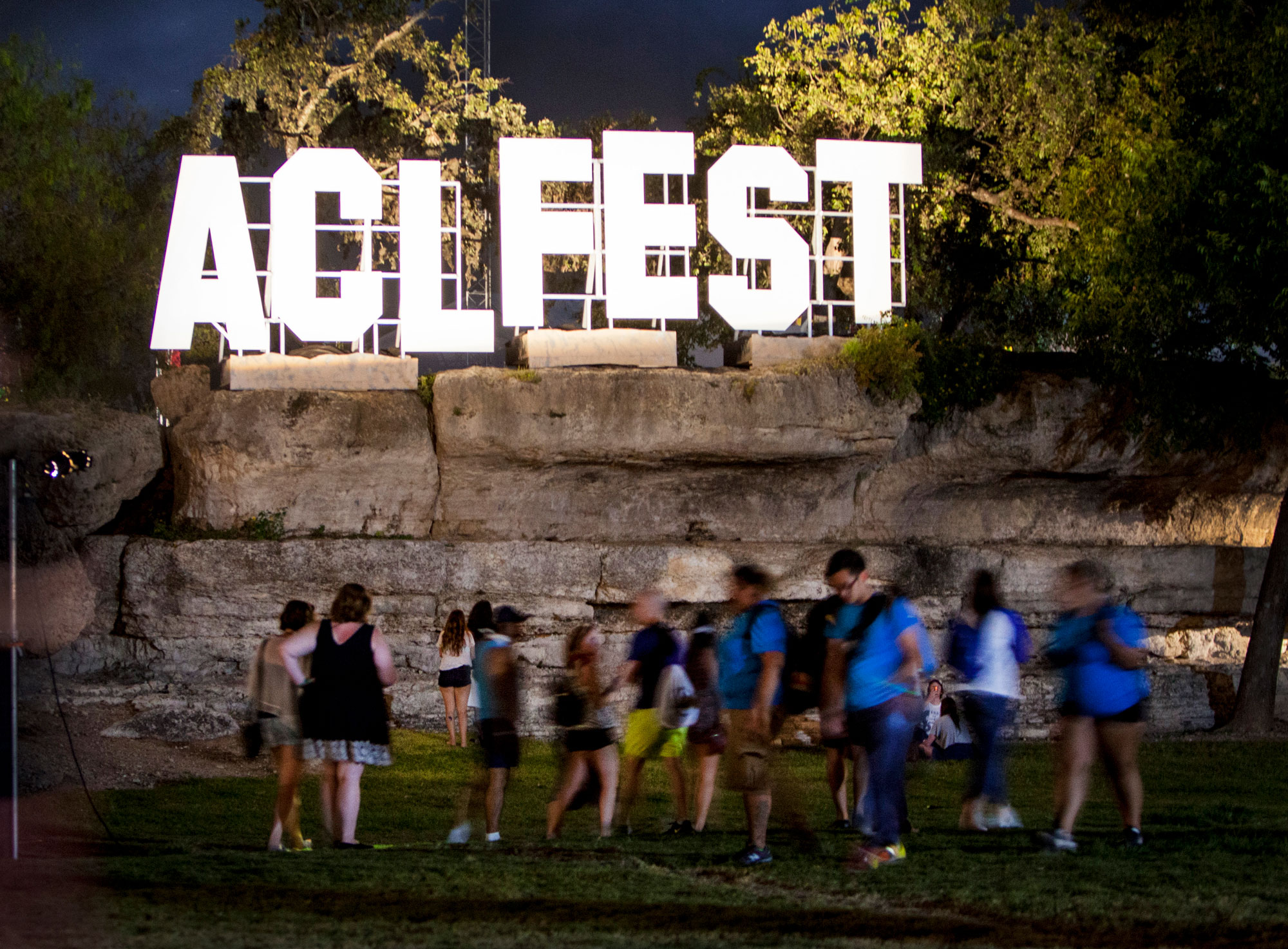 After taking last year off and almost getting replaced by a Vanilla Ice concert, Austin City Limits is returning to Zilker Park in Austin, Texas this fall. ACL will take place over two weekends, 10/1-10/3 and 10/8-10/10, and organizers have just announced the 2021 festival's lineup. Headlining the shows in October are George Strait, Billie Eilish, Stevie Nicks, Miley Cirus, Rufus Du Sol, Dababy and Erykah Badu.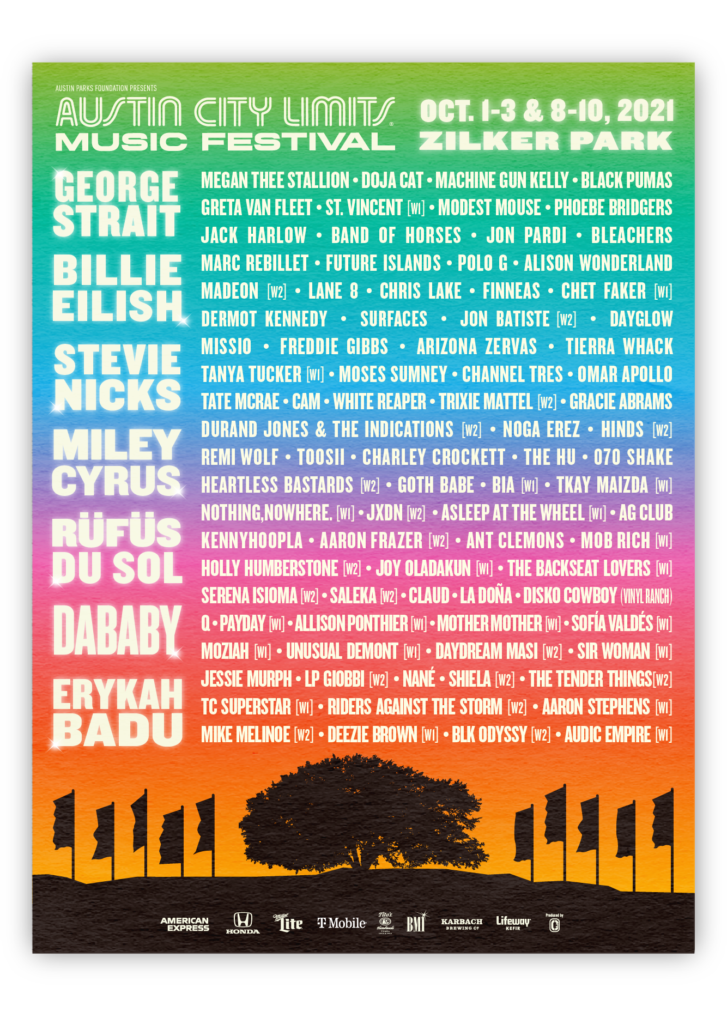 "Music is coming back strong to the Live Music Capital of the World," says Austin Mayor Steve Adler. "The return of Austin City Limits as an in-person festival celebrates that our efforts as a community to become vaccinated are working. Health and safety remain our top priority, and we will work closely with the organizers and Austin Public Health to ensure ACL Fest is in line with our health standards. We must continue to get everyone vaccinated and keep up our success."
As the Austin City Limits music festival prepares for a big comeback after a 2020 COVID-19 cancellation, tickets are on sale for both weekends (October 1-3 and 8-10) now.
The festival's cancellation, according to a 2019 study, presented a blow to Austin's economy, as the event brought almost $1.5 billion to the area that year. The cancellation also came months after Austin's other iconic music festival, South By Southwest, made the decision to cancel for the first time in its 34-year history.
The Governors Ball Announces 10th Anniversary Festival Lineup and New Location
Billie Eilish, A$AP Rocky, and Post Malone will headline the NYC fest in September.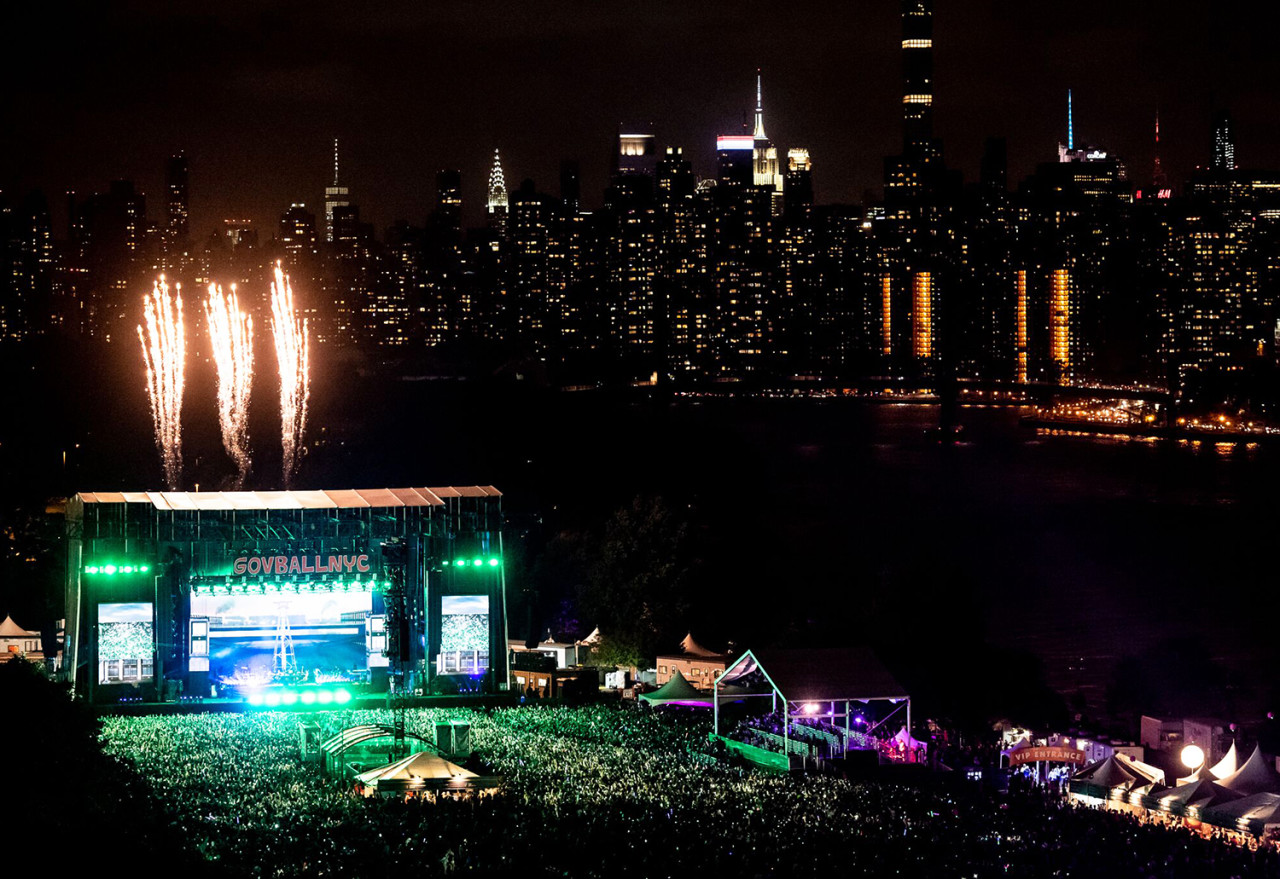 The Governors Ball is celebrating its 10th anniversary from September 24-26 at the Citi Field complex in Queens, New York. In honor of its decade-long reign, the Citi Field complex in Queens, NY will be hosting many major names including headliners Billie Eilish, Post Malone, and A$AP Rocky. As well as, Megan Thee Stallion, J Balvin, Phoebe Bridgers, Big Thief, 21 Savage, Young Thug, Burna Boy, Carly Rae Jepsen, Jamie xx, DaBaby, 100 gecs, Freddie Gibbs and the Alchemist, Orville Peck, Bartees Strange, Amaarae, MIKE, Future Islands, Leon Bridges, Duck Sauce, Dominic Fike, and more are set to perform.
"Building a recovery for all of us means reconnecting with the iconic events that make New York City the greatest travel destination in the world," New York Mayor Bill de Blasio said in a statement. "As more New Yorkers become vaccinated by the day, we're proud to support arts and culture and welcome back Governors Ball and their fantastic lineup, including New York City's own Princess Nokia, A$AP Rocky, and King Princess, among others."
Pre-sale for three-day and one-day GA and VIP tickets will be available exclusively for Citi Cardmembers from today at 6:30 a.m. PST through Thursday, May 6 at 8:59 a.m. PST. Three-day and one-day GA and VIP tickets will be available to all ages via GovBall.com beginning Thursday, May 6 at 9 p.m. PST.
Check out the full lineup below.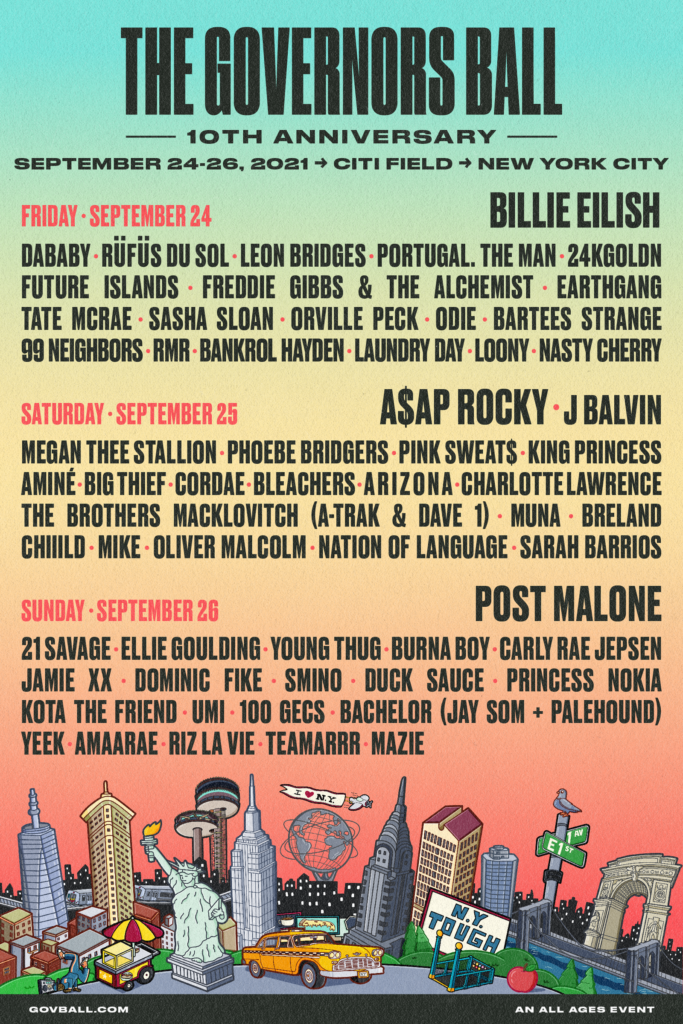 Bonnaroo Announces 2021 Lineup with Foo Fighters, Lizzo, Tyler The Creator as Festival Headliners
Morning Jacket, Deftones, Janelle Monáe, Incubus, and Julien Baker have also joined the September lineup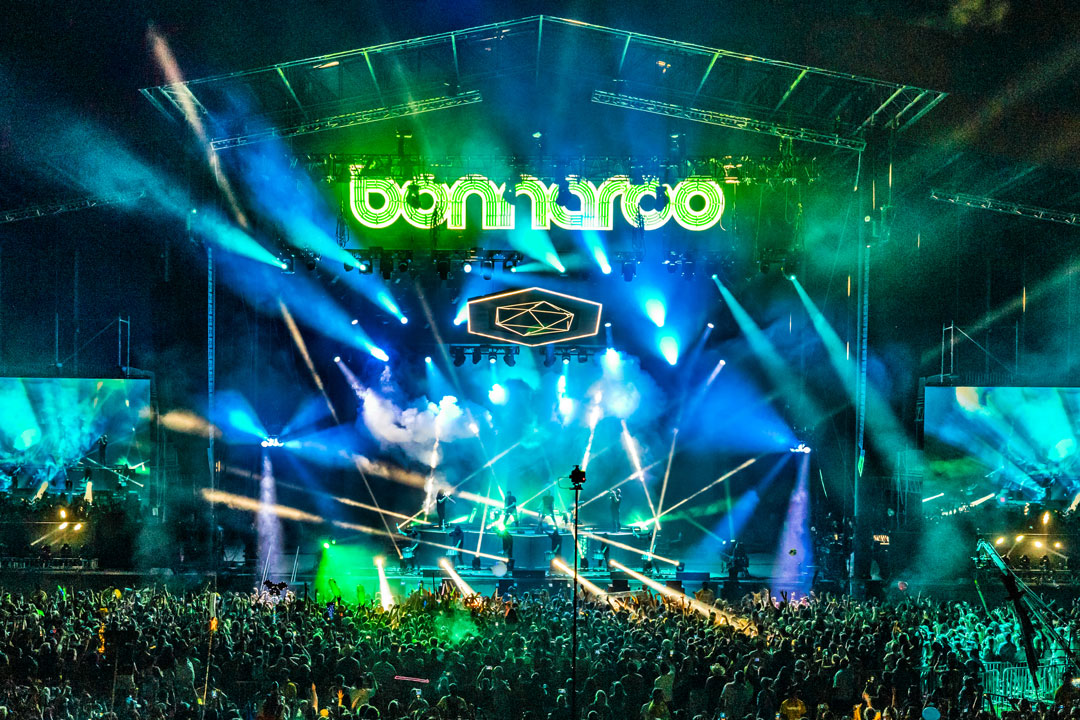 After canceling its 2020 event due to the pandemic, the Bonnaroo Music & Arts Festival has announced its full lineup. It'll kick off with the Grand Ole Opry on Thursday, September 2. Megan Thee Stallion and Foo Fighters will perform Friday; Tame Impala and Lizzo will perform Saturday; and Tyler, the Creator and Lana Del Rey will perform Saturday. Artists like Phoebe Bridgers, Lil Baby, Jason Isbell, Brittany Howard, Deftones, Run the Jewels, and many others will play during the weekend.
The acts no longer attending the event include Tool, Miley Cyrus, Vampire Weekend, The 1975, Bassnectar, Flume, Oysterhead, Tenacious D, Denzel Curry, slowthai, Pigeons Playing Ping Pong, Nilüfer Yanya, Mt. Joy, Rezz, Mt. Joy, Billy Strings, and Tones and I.
Bonnaroo's press release says organizers "always will be in regular communication with local health and public safety officials and will continue to abide by relevant recommendations. As it approaches, Bonnaroovians will receive regular updates with the important information needed to plan their trip to The Farm, including any changes to policies and procedures they'll need to know before entering the festival and campgrounds."
Bonnaroo also announced an NFT collection in honor of the festival's return and its 20th anniversary. "To celebrate the return of Bonnaroo and to commemorate the festival's 20th Anniversary, Bonnaroo has created a one-of-a-kind NFT collection including a 1 of 1 special edition of the 2021 Lineup Poster," read a statement. "This is the first time a music festival has produced an NFT collection and Bonnaroo is so excited to partner with digital artist Archan Nair and premier NFT marketplace, Makers Place." The digital artwork will be available for bidding on Apr. 3 at 6:30 p.m. ET. For more information and to place a bid, click here.
Tickets for Bonnaroo will go on sale today, March 31st at 1 PM ET/12 PM CT, via the festival's website. Options include General Admission (4-Day), GA+ (4-Day), VIP (4-Day), Platinum (4-Day), General Admission Camping & Parking, VIP Camping, and Platinum Camping.