Manic By Halsey Would Make A Great Broadway Musical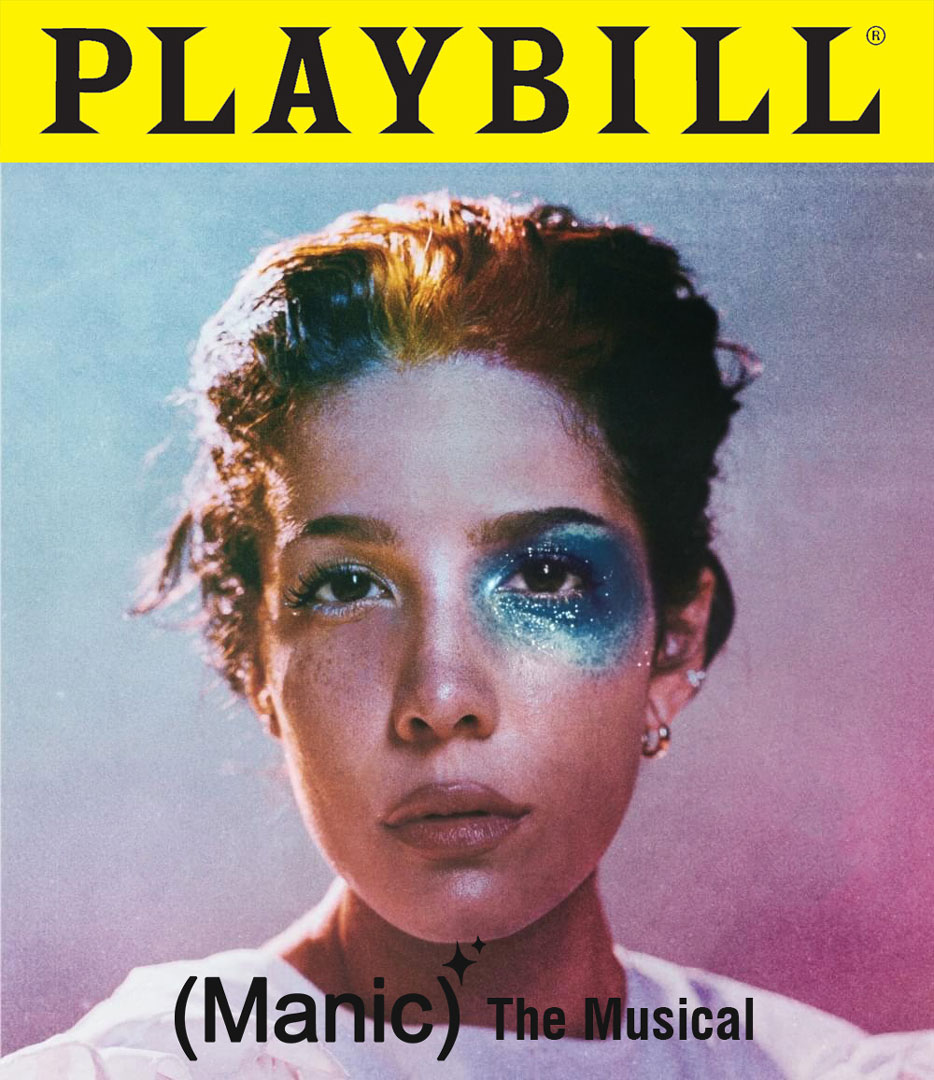 In her most introspective work yet, Halsey bares her soul – detailing her tumultuous life, failed love, emotional pain and hypothetical hope. This is a far cry from the blue-haired Ashley Frangipane found on Badlands of five years ago. It appears that woman has grown to believe in herself and instead of telling stories that she thought people wanted to hear, she told her story.
Manic is subtitled, "An album made by Ashley for Halsey" and it is exactly that, a story told by story and sung by Halsey.
Halsey tweeted that the album should be listened "front to back."  With that in mind, it appears to set up like a four-act play, complete with interludes. But unlike traditional interludes which are instrumental, these are vocal collaborations with guest stars; rapper Dominic Fike, BTS member Suga, and Alanis Morissette each contribute. Halsey describes them as "People who really represent different parts of my psyche and different parts of my personality in so many different ways."
Act I: Despair
The opening scene finds Ashley contemplating the perilous nature of fame in 'Ashley.' In this trap-pop synth track Halsey sings the painfully candid lyrics: "Took my heart and sold it out to a vision that I wrote myself/And I don't wanna be somebody in America, just fighting the hysteria/Only wanna die someday." The track ends with a sampled Kate Winslet dialogue from Eternal Sunshine Of The Spotless Mind: "I'm just a fucked up girl who's lookin' for my own piece of mind. Don't assign me yours."
Halsey's powerful yet delicate voice dominates the spacey piano ballad 'clementine', which speaks to Ashley's feelings about the loneliness of depression with this fitting refrain: "I don't need anyone, I don't need anyone/I just need everyone and then some." The melancholic minor chords create the perfect atmosphere for her vulnerable lyrics.
The optimistic pop tempo of 'Graveyard' is deceiving but the lyrics quickly tell the story Ashley's excessive desperation – a downward spiral brought on by love's dark side. Of all the tracks on Manic, this is most reminiscent of hopeless fountain kingdom.
While 'You Should Be So Sad' could easily be a Kacey Musgraves' hit, Halsey elected to use this fuck-off ode to ex G-Eazy as a soul cleanser. Throwing shade with, "I'm so glad I never ever had a baby with you/'Cause you can't love nothing unless there's something in it for you," certainly set the record straight. It's finger-picking style and lap steel guitar make this track feel country but Halseyfied.
Act 1 ends with 'Forever … (Is a Long Time),' the tempo slows, and Ashley's unsettled story of relationship sabotage where the melody drives the track. Midway through a sustained morose piano passage nearly ceases and then the lyrics return, distorted and overdriven with the message: "Talk to your man, tell him he's got bad news comin."
In the first of three interludes, 'Dominic's Interlude' revisits the lyrics from 'Forever…' with Dominic Fike singing "Talk to your man, tell him he's got bad news comin" in an energizing tone, complete with joyful strings and layered harmonies à la ELO's 'Mr. Blue Sky.' This hints to a dramatic change.
Act II: Neurotic
In Act 2, Ashley's emotions evolve from despair to neurotic and speak to her struggles with self-hatred. The search for love or just approval continues in 'I HATE EVERYBODY' but she suspects it will never be real. The chorus tells story: "If I could make you love me/Maybe you could make me love me/And If I can't make you love me/Then I'll just hate everybody"
Insecurities run rampant on the banger '3am.' After a night out Ashley is searching for love from anyone who will answer her call: "I need it digital 'cause, baby, when it's physical, I end up alone." As a resolve of sorts, the track ends with a recorded phone call from John Mayer: "Your.. your best song is the song that's currently on the radio. How many people can say that? That their best song is the one that's currently about to be a massive hit. It's already a hit, it's just gonna get more massive. How many people can say it? Not very many. Congratulations!"
Love denied, once again in "Without Me" where Ashley gives it all only to be cheated on. Halsey emphases the emotion nature of the track with her somber heartbroken vocals.
As Act 2 resolves, a glimmer of hope shines in 'Finally // beautiful stranger.' A strummy slow jam of reluctant romance and becoming vulnerable again. In this lyrically powerful track with country tinges, Ashley is ready to "fall" in love: "And I hope, beautiful stranger, here you are in my arms/But I think it's finally, finally, finally, finally, finally safe for me to fall."
In 'Alanis' Interlude,' Ashley speaks to the pleasures of a bisexual relationship: "With soft skin, soft as all these/Beautiful lights and beautiful thighs/They always kept me up at night/But I can't change my appetite." The vocal interplay between Alanis Morrisette's commanding mezzo and Halsey's cool soprano dominate this track.
Act III: Independence
In Act 3 the budding Ashley seeks independence and 'killing boys' is just that. The track begins with a sample from the cult film Jennifer's Body with Megan Fox and Amanda Seyfried: "You're killing people/No, I'm killing boys, boys are just placeholders, they come and they go/You're my best friend, and I wanna help you but I won't let you kill again/That's a lose-lose." This thumping revenge jam continues with Halsey sings, "And all I want in return is revenge/'Cause I don't need you anymore."
In the final break, 'SUGA's Interlude' features BTS member Suga rapping in Korean with slower verses from Halsey in between. The lyrics are backed up by a slick K-pop groove and speak to dealing with self-hatred and ego. One of Suga's lines translates to: "It's always the darkest right before sunrise." Halsey's verses describe a battle "between the having it all and giving it up."
Act IV: Acceptance
The final act deals with acceptance and the first track, 'More' finds Ashley longing for a child who has not yet arrived. Halsey sends this emotion love letter out to the universe in hopes of a response: "I want you more/Somehow, I just want you more."
Moving past self-hate and admitting that she may be able to love herself, Ashley airs her imperfections. Set to a Latin-pop vibe, 'Still Learning' shows Halsey at her most vulnerable: "I got a paranoia in me/And you wouldn't believe/Everything that I seen, no/Comin' apart at the seams/And no one around me knows."
The stage lights come down and a glowing Ashley is in the lone spotlight. The final track, '929' starts off with Halsey insisting that she was born at 9:29 a.m. on 9/29. This is followed by a free flow of life confessions backed by a gentle guitar. A vocal cleansing of her psyche to allow healing to begin: "Lost the love of my life to an ivory powder/But then I realize that I'm no higher power/That I wasn't in love then, and I'm still not now/And I'm so happy I figured that out." By the end of the song, she renounces her earlier statement: "I think I have a confession to make, I feel like (So we know you don't)/I need to say that I was really born at 9:26/It's on my birth certificate, I'm a liar/Man, I'm a fucking liar."
Tears for Fears Brings Thunder and Lightning to Dallas
The Tipping Point World Tour Kicks Off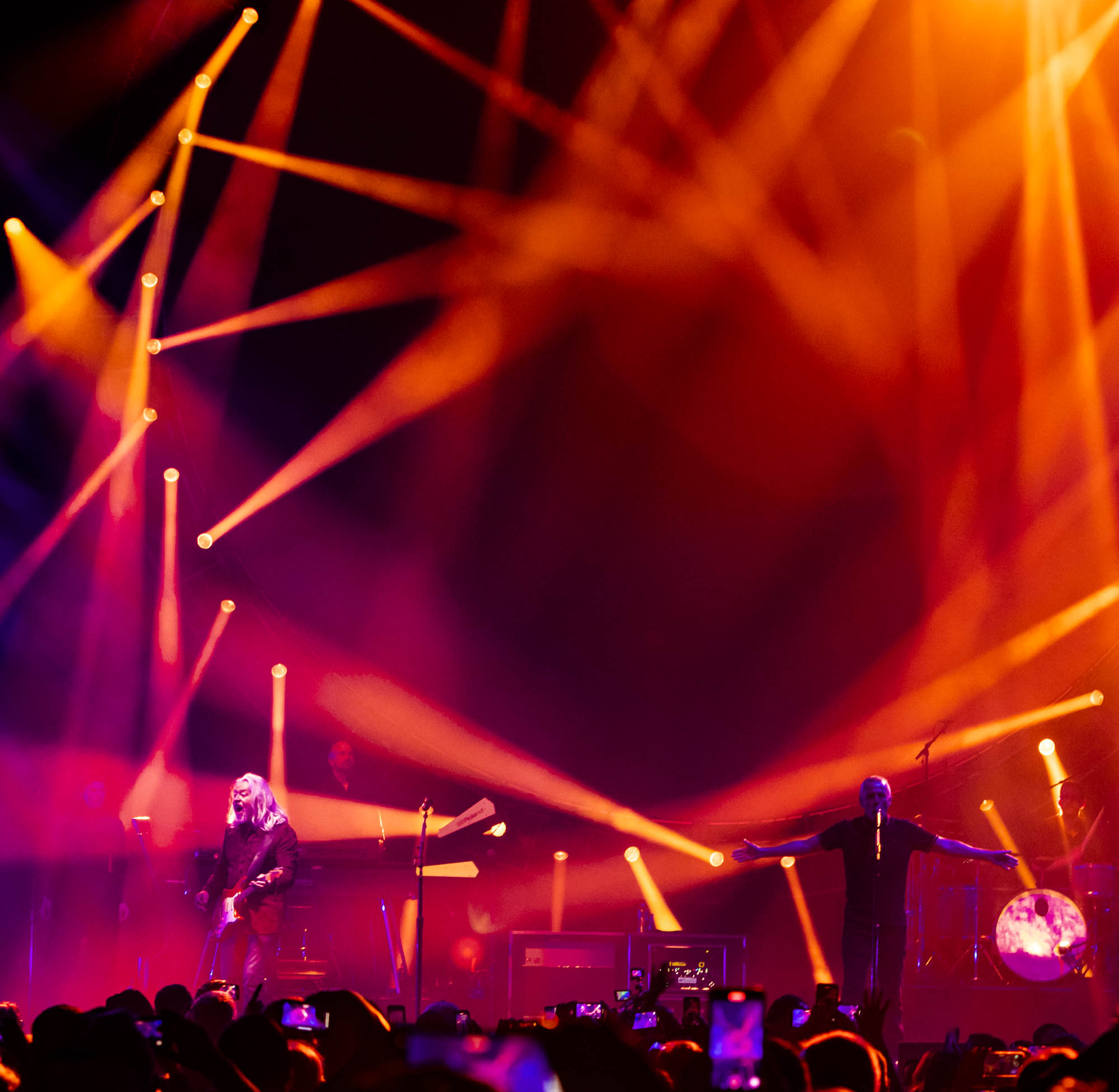 With thunder and lightning present outside The Pavilion at Toyota Music Factory, the band seized the moment by rocking the inside as well. Tears for Fears co-founder Roland Orzabal addressed the crowd, "We brought a bit of English weather with us."
Straight away it was clear that this would not be a legacy tour where the band just plays their most popular songs. Much of the set consisted of songs from their new album, The Tipping Point, and for good reason. This critically acclaimed album is on par with their first three and in some ways even better.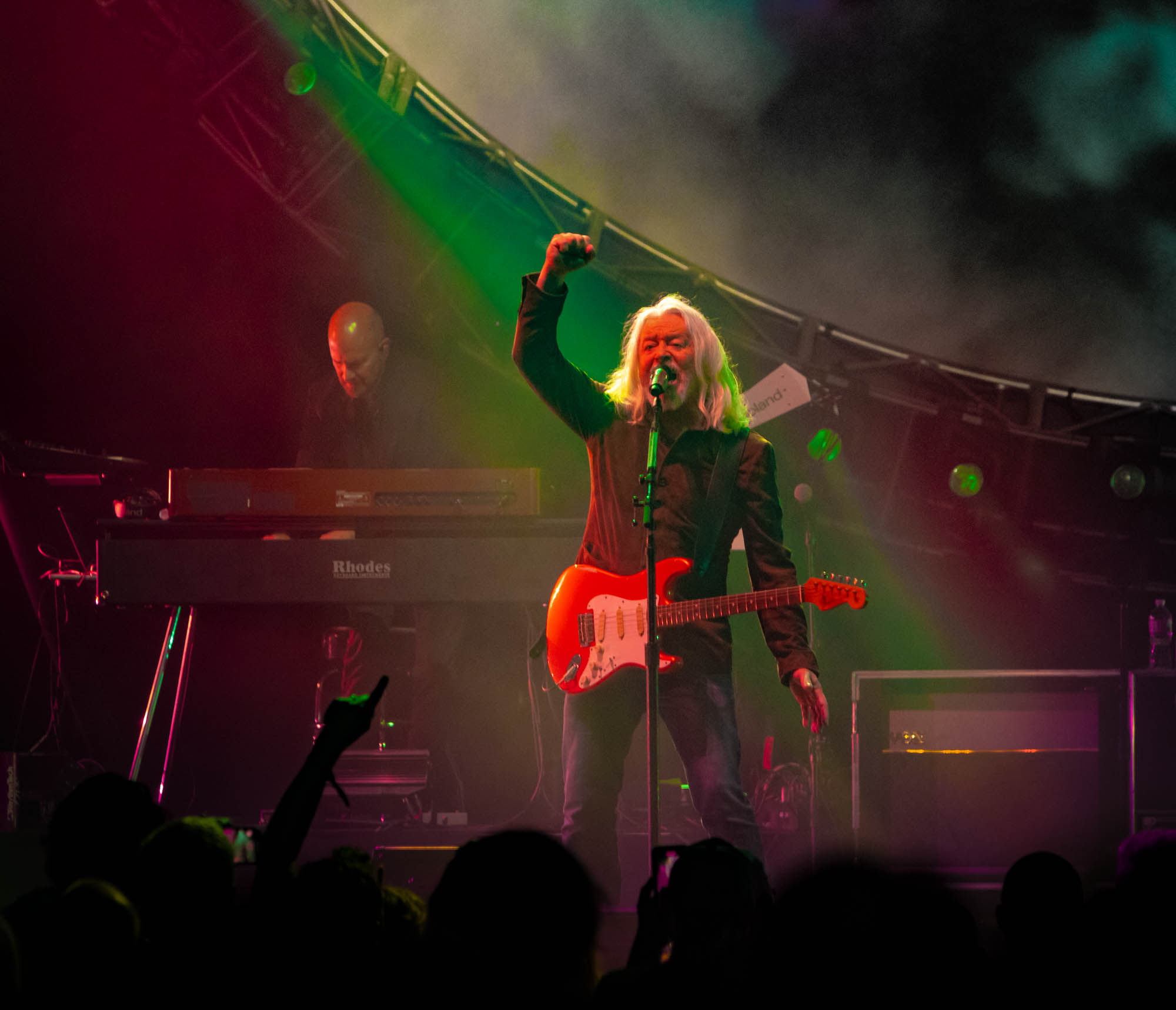 Sure the fan demographic definitely skewed toward those who grew up in the MTV generation but there was a fair representation of younger fans who most likely first experienced Tears for Fears through a video game or TV show. Regardless of how they got there the audience embraced this special moment, singing along and swaying to tune after tune. With the hits receiving the most enthusiasm from the crowd, Orzabal jokingly stated, "I guess a lot of you haven't bought the new album yet."
Vocally the band didn't miss a beat, with co-founder Curt Smith sounding as good as ever and proving they are still able to move an audience in the most cathartic ways. You could sense the confidence in Orzabal and Smith's harmonies as they hit as hard as ever and backing singer Carina Round pulled it all together with her gorgeous voice.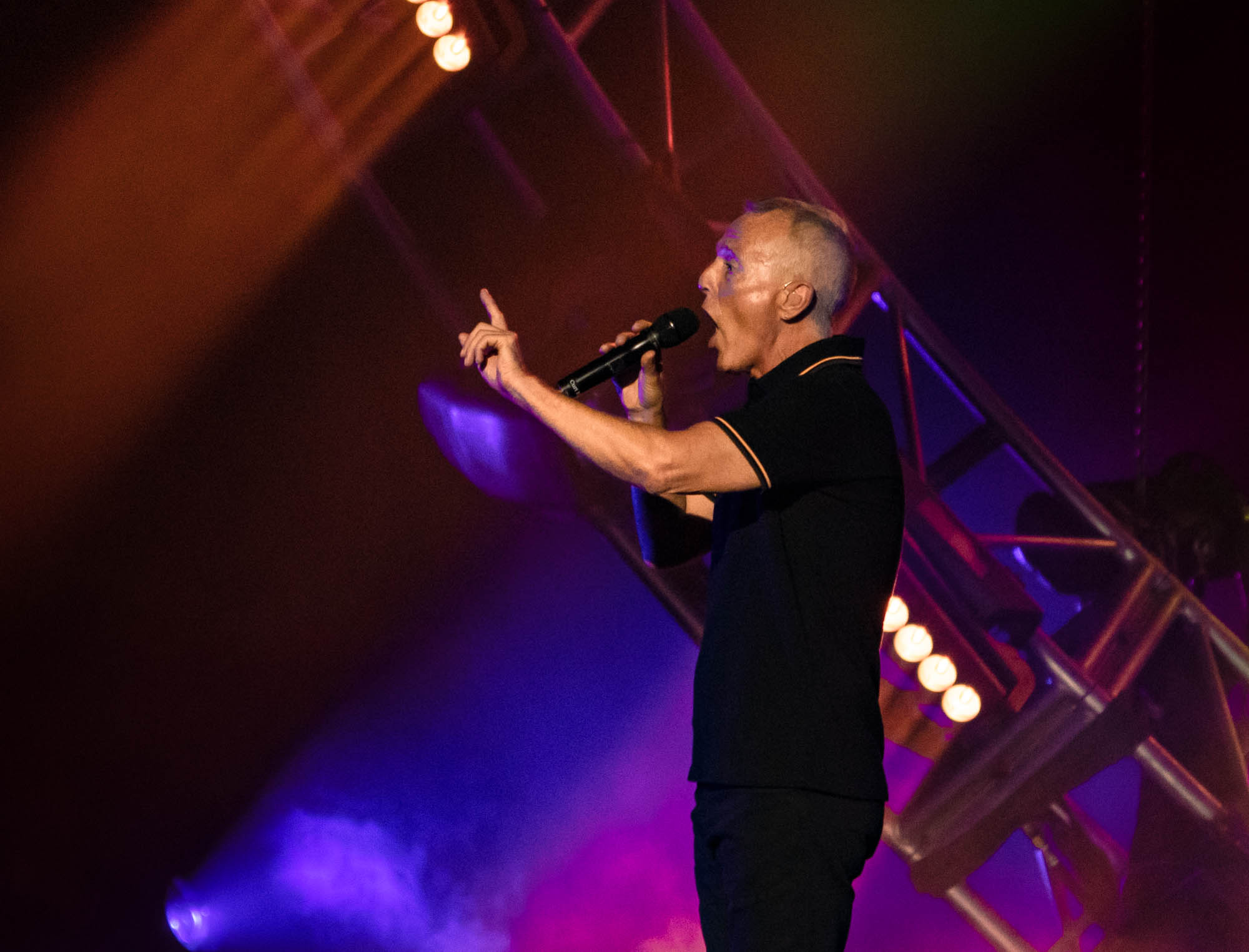 Setlist
No Small Thing
The Tipping Point
Everybody Wants to Rule the World
Secret World / Let 'Em In (Wings cover)
Sowing the Seeds of Love
Long, Long, Long Time
Break the Man
My Demons
Rivers of Mercy
Mad World
Suffer the Children
Woman in Chains
Badman's Song
Pale Shelter
Break It Down Again
Head Over Heels / Broken
Encore
End of Night
Change
Shout
Mitski Returns From Hiatus with New Album and World Tour
Set List and Pics from Dallas, Texas Concert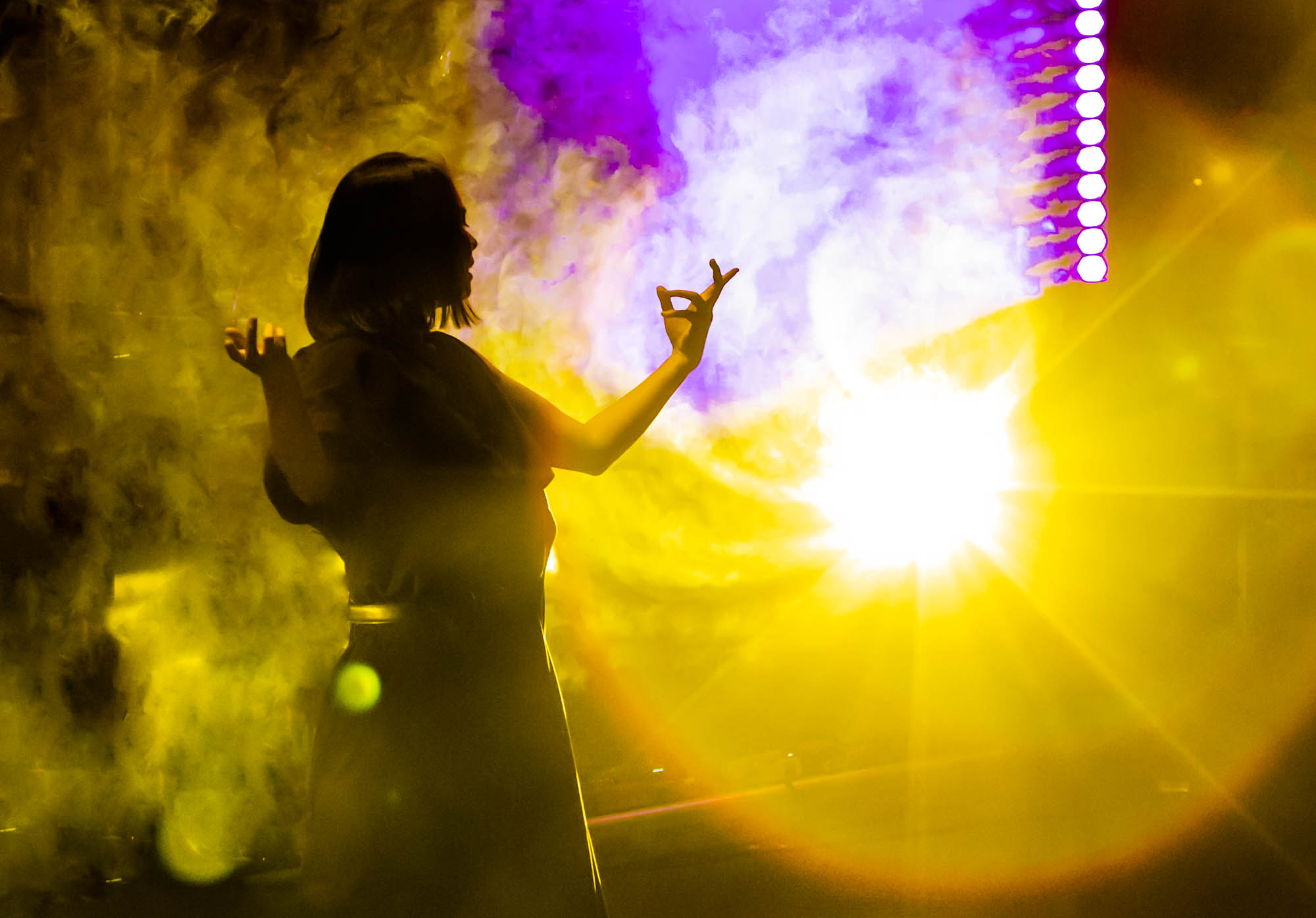 In 2019, Mitski decided to walk away from music. She announced that she'd be stepping away indefinitely, but just over two years later, Mitski returns with her sixth album, Laurel Hell and a 53 stop tour covering North America and Europe. The Factory in Dallas, Texas was the seventh stop in her completely sold out tour.
Her 23 song set includes six songs from the latest album, Laurel Hell, with the rest pulled from her older material. The stage design is minimalistic, composed of a stage prop door and decorative stage lights. Mitski's movements are very deliberate as she runs and dances across the stage, somehow appearing apprehensive but totally in control. The tone and mood of the songs is shaped through her visual expressions  and the ever-changing lights pointed towards the audience.
The dedicated fans of Mitski adored every second of it, singing along, dancing and reveling in her presence.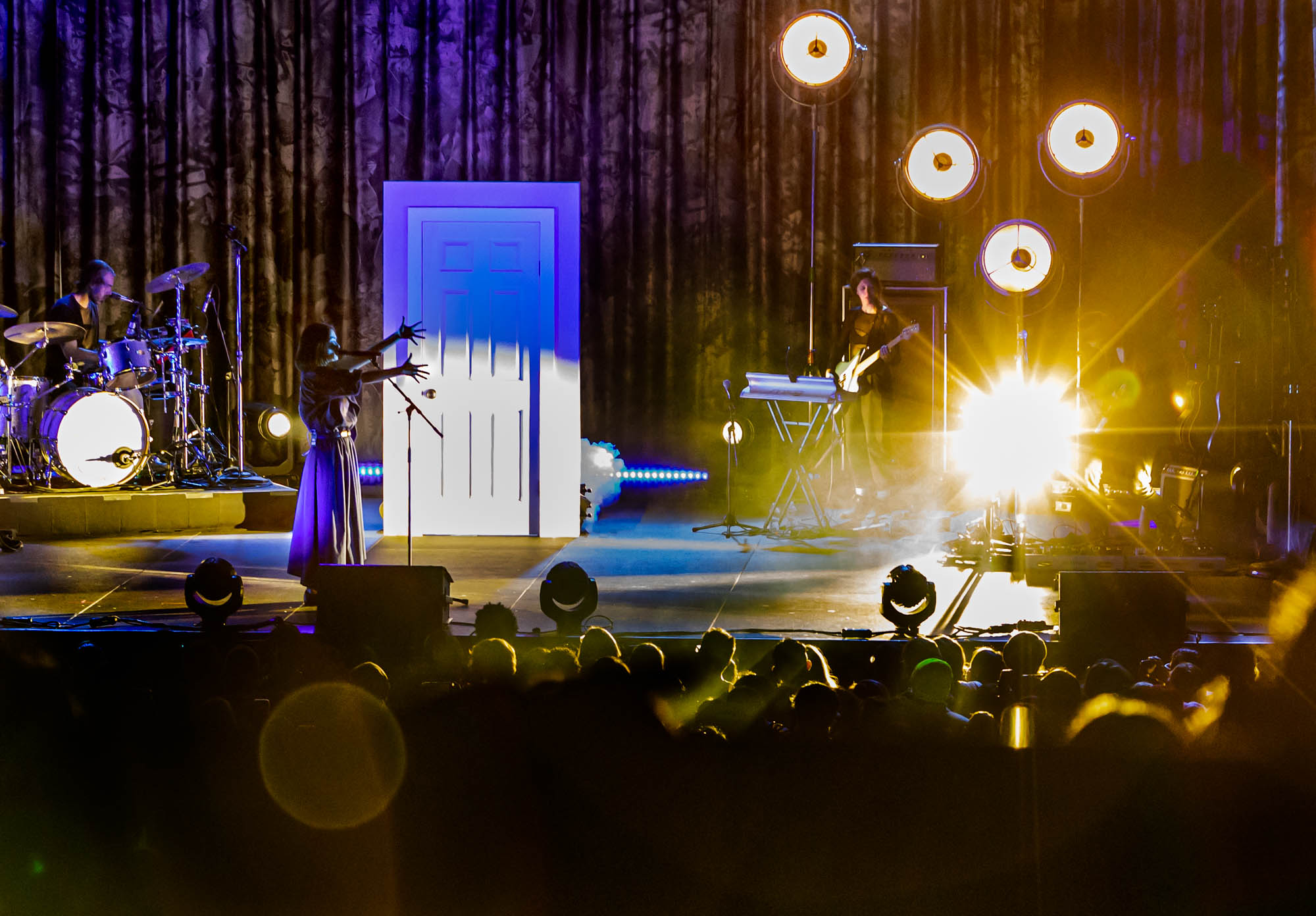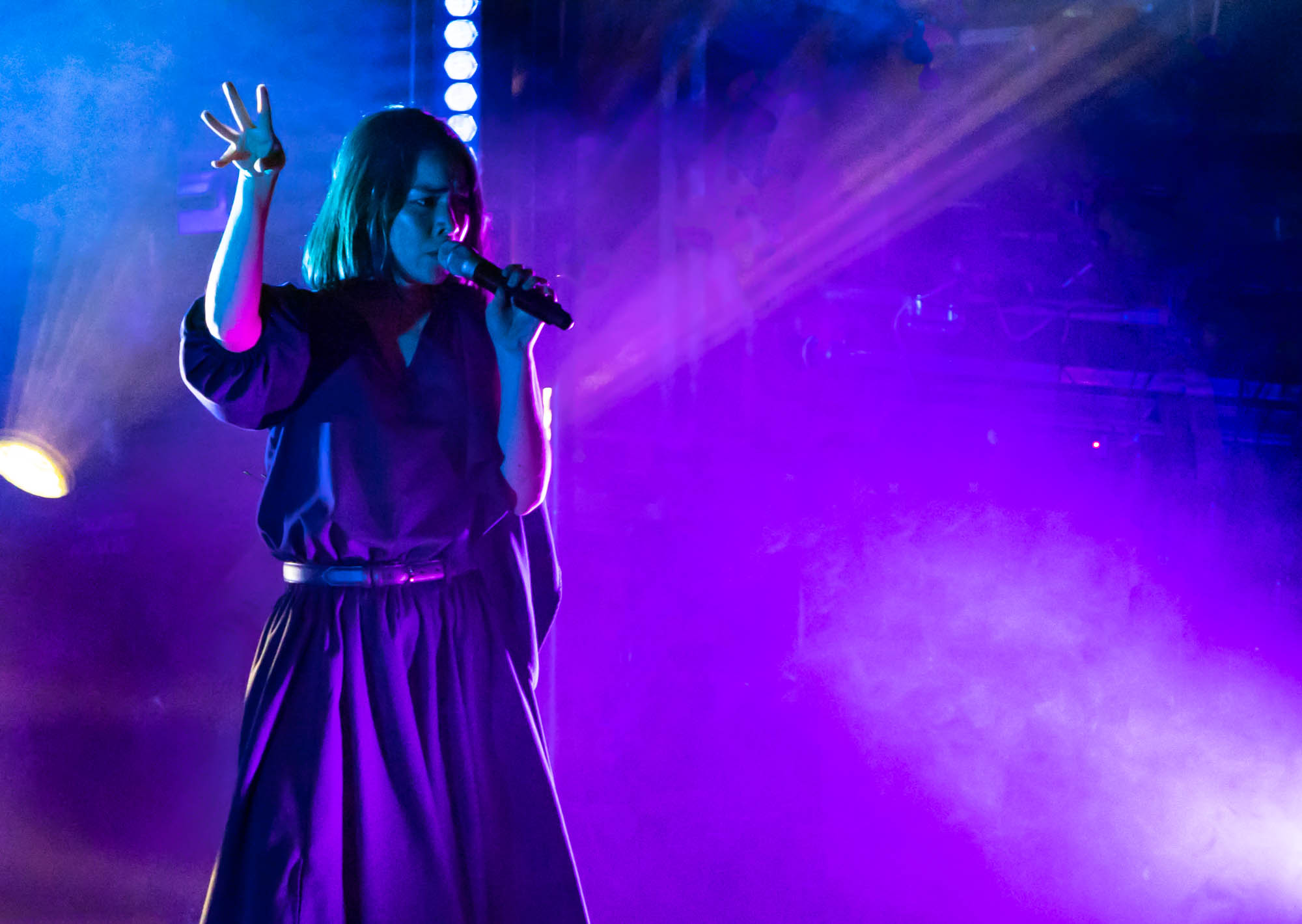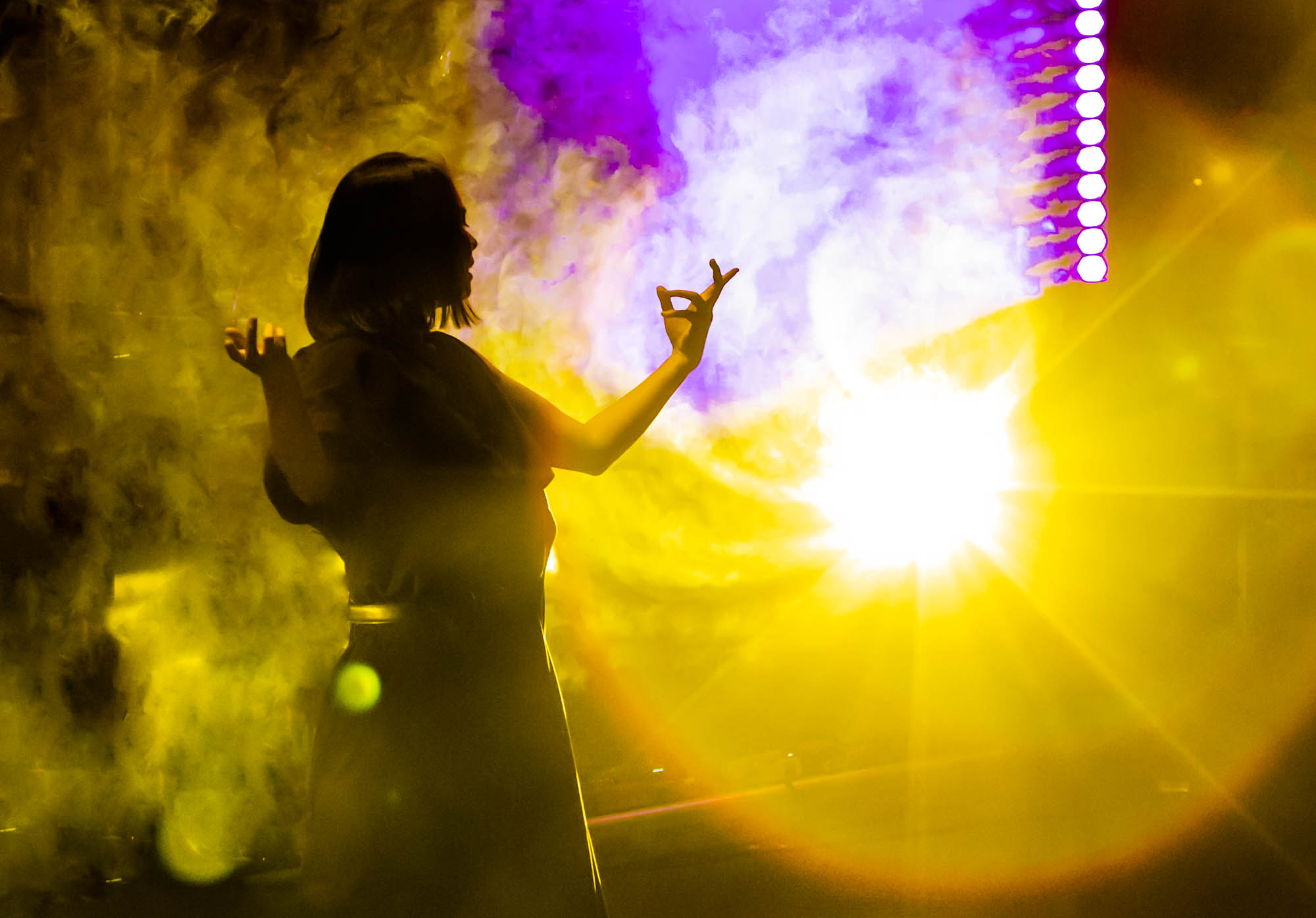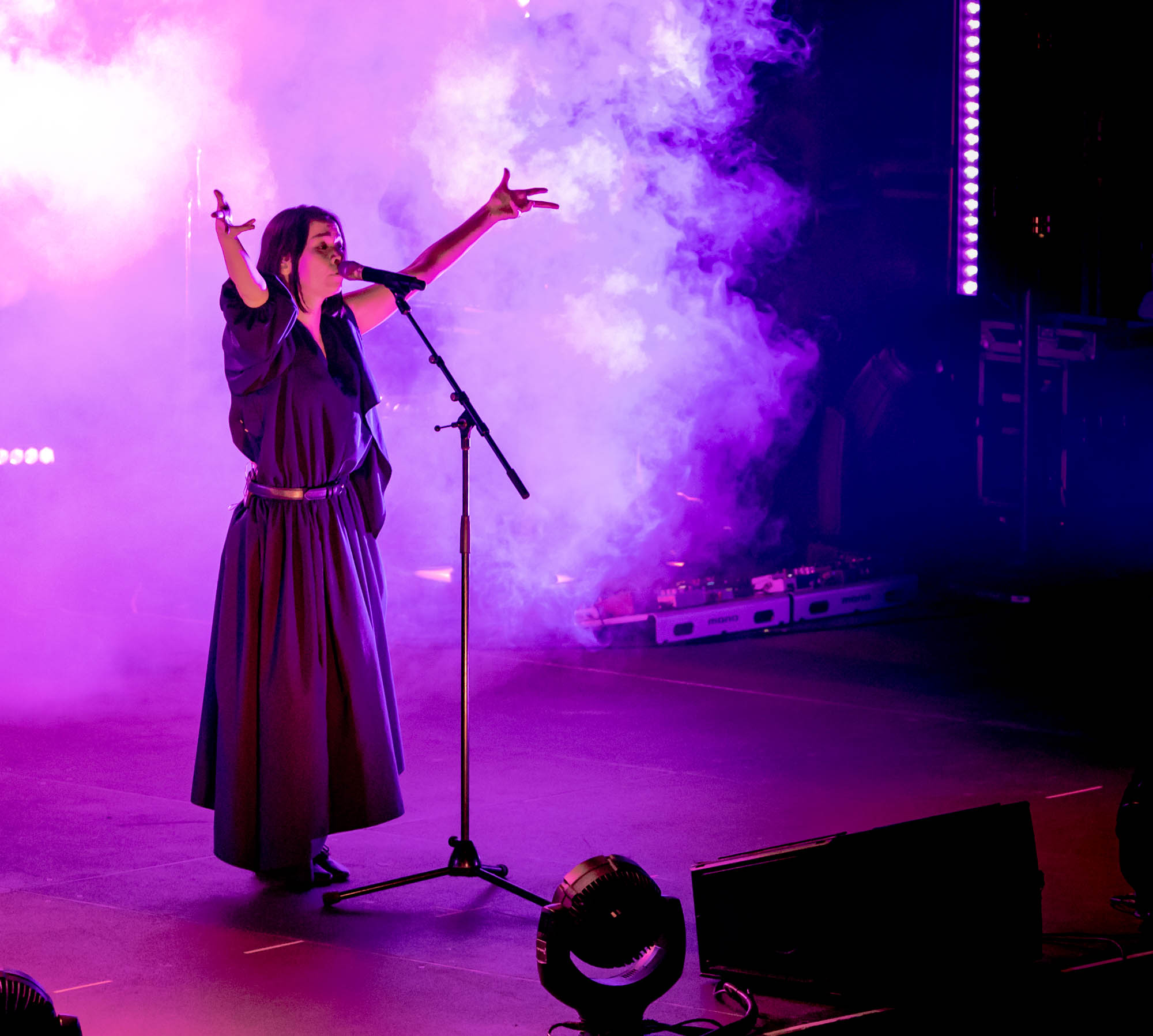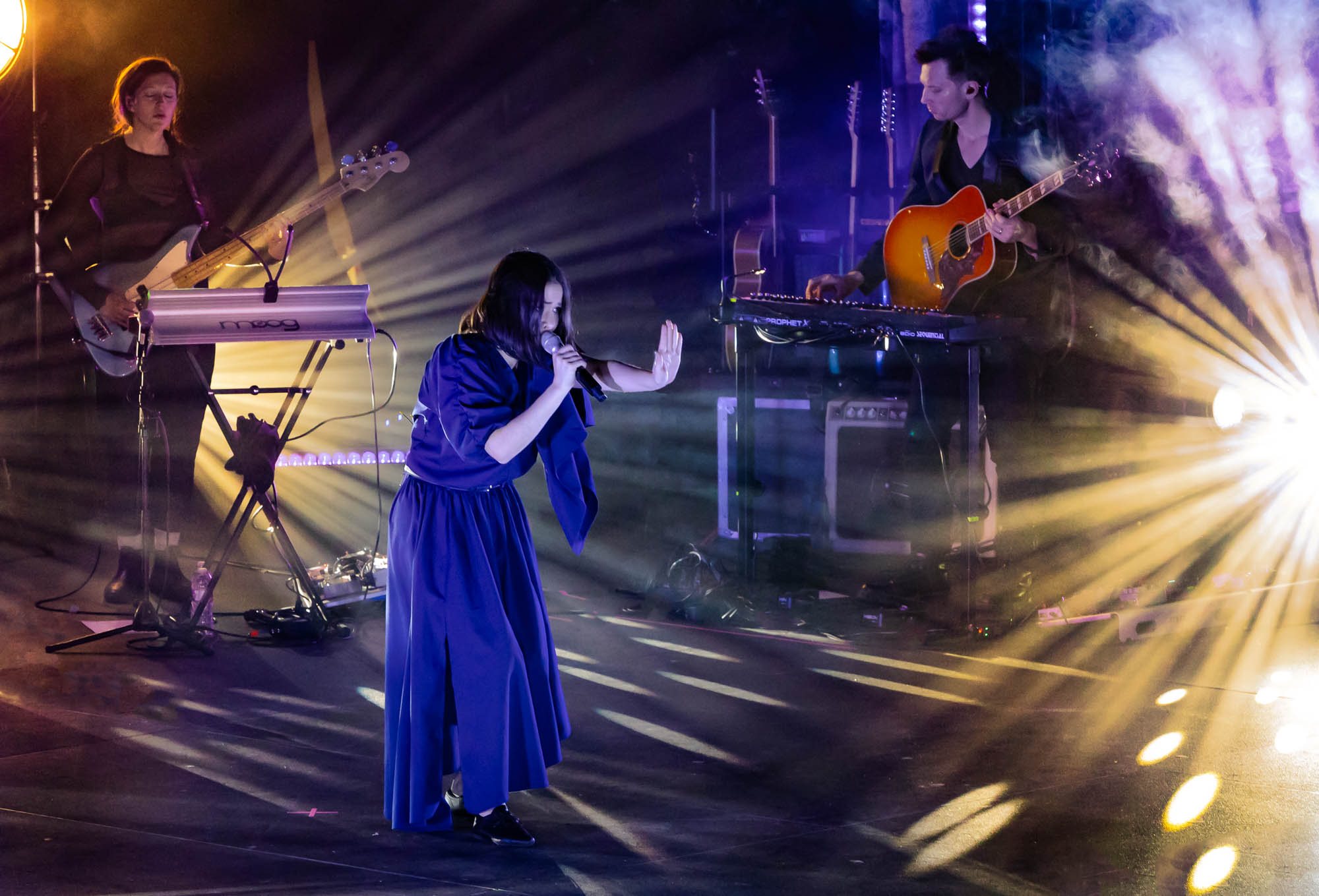 Set List
Love Me More
Should've Been Me
Francis Forever
First Love / Late Spring
Me and My Husband
Stay Soft
Townie
I Don't Smoke
Once More to See You
Nobody
I Will
Drunk Walk Home
Happy
Your Best American Girl
I Bet on Losing Dogs
The Only Heartbreaker
Geyser
Working for the Knife
Heat Lightning
Goodbye, My Danish Sweetheart
Washing Machine Heart
A Pearl
Encore:
Two Slow Dancers
The Resilience of Toad the Wet Sprocket in Disposable Times
Starting Now marks their return after eight years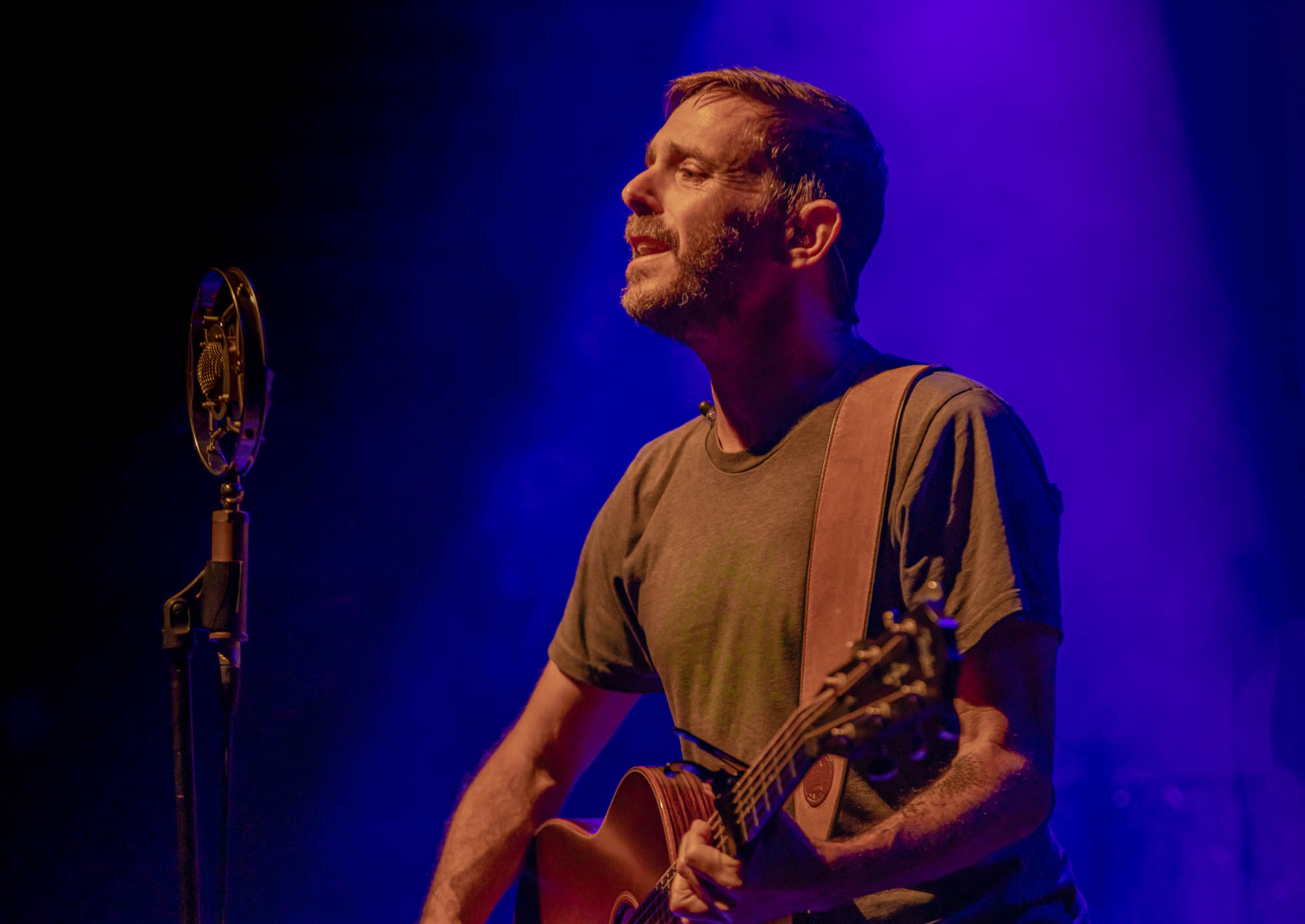 The Cali alt-rockers Toad the Wet Sprocket formed in 1986 and spent the next five years mastering their craft. The 1991 release fear, marked their commercial breakthrough with chart-topping singles All I Want and Walk on the Ocean, the quartet's popularity soared. They continued with 1994's Dulcinea and 1997's Coil, which contained another string of successful hits such as Something's Always Wrong, Fall Down, Fly from Heaven, Crazy Life and Come Down.
In 1998 the group officially disbanded but for the next ten years they performed on numerous occasions and in 2009 the band reformed. They continued performing, re-recorded some older hits and launched a very successful Kickstarter which resulted in the release of New Constellation in 2013. Another eight years would pass until Toad the Wet Sprocket entered the studio again to record the long-overdue next studio album, Starting Now.
We caught up with the band's frontman Glen Phillips during their recent tour to discuss the new album, touring and life.
How did Starting Now come to be?
Actually, I started recording another solo record and I was really loving the songs and I was thinking, why am I doing a solo record right now? What am I trying to prove? It's been a long time since I wanted people to hear these songs. If I put this on a solo record, then I don't get to play them on a Toad record and I just think I finally took the chip off my shoulder about the band. We've been in those years too, we changed. Randy (Guss), our original drummer, left the band and so we had to adjust to this idea of what we are right now and kind of figure out our new relationships with each other because we've been together for 35 years. So it's a very familial dynamic and I had this realization that I'd rather make a Toad record than a solo record, which was really surprising to me and quite welcome. I quit what I was working on and we started recording and next thing we knew, it was lockdown. So, there's definitely a bit of a rewriting process of some of the songs that had been kind of topical, which is always a dangerous place to go because unless you get things out really fast, being topical is like it's deadweight even before it's released. And beyond that, I think there was a realization that things are so ultra-polarized right now that I kept needing to try to zoom out and find something that was a little larger and a little more true than my perspective about the specific issues of the day. There's a song called Hold On that went through major rewrites, it was originally about the child internment, splitting up families and it was a particularly heartbreaking subject and very timely, then the song didn't come out, time moved on and then there was quarantine. Eventually it became as broad as I could write it, a lot of the songs probably carry on things that could be directly related to what's happening or what was happening. During the time I just felt like I had to get back to the point, instead of here's a particular injustice that's going on right now, it had to be more of the question of how do you find a moral center, what's the definition of hope. I entered this beautiful description of hopes, as opposed to the passivity of optimism or pessimism, which are either everything is going to be great so I don't need to do anything or everything is going to hell so I don't need to do anything, that hope is this position of activity where it's like the outcome is uncertain but the moral imperative is clear. Hope is moving towards that moral imperative and doing what is right, despite whether or not it's convenient and despite whether or not you think it will result in any response from the world. It's that kind of a thing, do you do the thing that's a little more difficult because it's better, even when no one's watching. So that ended up being a lot more of where the album focused. Yeah, it's also got some love songs, which I hadn't been writing for a while. It felt really nice to have love songs again and to be inspired to write them.
Was the album title reflective of a new beginning?
Yeah, well, once again, in terms of that, that was written actually about a year before lockdown. A few lines of it changed here and there, but it's more about that. It's the funny thing with good spiritual teachers, they just say the same thing over and over. So, for me, in the last five years, my big teachers have been people like Mary Oliver, Tara Brach and Jack Kornfield. A lot of poets and a lot of Buddhists, and there seems to be this recurring theme with all of that, which is; the past is gone, the future is indeterminate and all you have is this moment, right? This is it, and so your job is to be as aware as possible and see how much you can be present for it, and how much you can be aware of what's actually going on, and not your narratives about past or future or imagining what's in everybody else's head. I keep coming back to that, as kind of the only spiritual teaching that's really helped. For me, which is starting where you are, I have all kinds of regrets, all kinds of things that I would redo or repave but in lieu of a time machine, the only thing I can actually control is this moment. And even that is up for grabs.
How does it feel to be on the road again?
So far, it's been really wonderful. I didn't realize how much I'd missed playing music for people and playing with the band. So that has been glorious and it's also been a certain amount of stressful. We're kind of heading into the territories that are perhaps less cautious about COVID and at this point, I kind of feel like people have chosen a lane. Except the difficulty in that when you're touring is that if anyone in the band gets sick, then we're shut down for two weeks, there's no insurance and it's just lost income. So there's sometimes frustration when there's resistance to trying to be careful about it just because it's like, I'm trying to work. We're just trying to get through the tour and I know a lot of people have been shut down. So yeah, I noticed that my general anxiety level got way better once we reached the point at which if we were shut down we wouldn't lose tons of money after not having worked for two years.
If you had to choose between being a performer or a songwriter, which would you choose?
What's the pay? If songwriting actually paid, I would be a songwriter. Just because as much as I love singing I feel like no one can take that from you and honestly, most of my favorite places to sing aren't club shows. I've been doing a lot of community choir leading and stuff that's just friends in a room together. I find that as much as I love performing for an audience there's also something I really love about flattening the idea of performance, where things are entirely participatory and there's not a sense of us and them. Which is why situations that bypass performer and audience relationships are really exciting to me and if I were a full time songwriter I could both wake up with my girlfriend and make coffee in the morning every day and I would still have those other means of performances. So COVID made me a little more of a homebody. I don't think I'd been home that long in 20 years and I kind of liked it. Unfortunately, songwriting doesn't pay so I tour and this isn't to say that I don't love touring. I do love it. I just would love for teleportation to exist, so I could have a carbon neutral way of just bopping to the venue and popping back into my house.
How did you spend your time during COVID?
I was a very active live streamer. During the last year, I did well over 200 live streams. I was doing three a week that were on Facebook and YouTube and then I would do StageIts on Sunday. Then I kept the choir, it's like a drop in community choir. The best way to describe it is that it's like church without any religion. So it's kind of uplifting spiritual songs and the songs are designed to be quickly learned by nonprofessional musicians or so as any voice is welcome. There are a lot of people there who were kind of shamed out of singing or told that they shouldn't sing. And it just feels good to sing. So there's not a pressure to sing particularly well. It's better to sing in tune, but it's not required if you can't and the songs tend to be counter melody, which is easier for non musicians to hold.They're fairly repetitive songs but you just sink really deep into them. So you're repeating a 15 second phrase maybe for five minutes. They're easy to learn, easy to pick up, and they're uplifting and they feel good. I've been doing that for about four years before COVID got shut down so I kind of kept leading those online, like using a looper to kind of guide people in doing it on Zoom. It wasn't as good as in person, but it was something. I had five shows a week for a year and a half, so yeah, it was strange I didn't dress up the stage, I didn't sell tickets, I showed up as I was for free for at least three times a week, every week and kind of created a community and I was doing benefit shows and raising money for other people. It ended up being more like my songs were a backdrop for this community to develop where people would just be checking in on each other and kind of reaching out and making sure other people were okay. It was a really beautiful experience, actually a lot of those people are coming out to the shows now. And it's been really kind of humbling to see what came into being just by showing up that regularly.
Following the release of Coil, the band broke up. You spent many years doing solo work, how would you compare your solo work to Toad work?
I always just wrote songs and those will kind of change depending on what I'm listening to or what I'm thinking about or feeling, more than anything else. But they've always had kind of a wide stylistic range that the band does a fantastic job of centering. Toad has such a signature sound, Todd (Nichols') parts are so unique and are such a great counterpoint, about half the Toad songs are his music and the other half of the songs are just things I walk in with, but his playing and kind of the harmonies and Dean (Dinning's) melodic sensibilities on the bass, no matter if I'm writing something that's a little folkier or country or rock or just weird, the band would always bring it into the center place where it would have a feeling and an identity. I've never worked that out on my own and so I really noticed my songs are this kind of constant but the album making as a solo artist for me has been a very difficult process because I don't know what I sound like. I know what I write like and I know what Toad sounds like but I have no idea what I sound like. So the albums are kind of all over the map and it makes me really appreciate the band to get together and do this. And even this record, we did two days of drum tracking and then things got shut down. The rest of the album we were just sending each other tracks via Dropbox, recording at home and then Mikal (Blue) mixed it. So it was very much self-produced, it's like, here's my part and somebody might say, I want to try that different and then a week later, I'd get to it and try something different, send it back out and a week later I'd get a response. It was a very slow process but mostly we were kind of responsible for our own corner and we all did a really good job of making room for everybody else. So it was a surprisingly smooth process that sounds very much like a cohesive record that we'd all worked out together.
What did you learn about yourself during COVID?
I'm still working on that. One is that it's really good for me to slow down and stop doing, all the time. In certain ways it's safe for me to have a home again. I got divorced seven years ago and I was very kind of itinerant and self indulgent and it was hard for me to settle down again. I think, moving in again and trusting that it's safe to risk being hurt again, if that makes sense. All I want is a home and having lost one, I am so terrified of ever experiencing that pain again. But it's been really difficult to just settle down and the situation, kind of not forced my hand, but tipped my hand into cohabitating again and after a few brief panic attacks, I found that I quite liked it. So it was really good for me personally that it's actually worth that risk to allow myself to be with somebody again. So that was a fairly major one. And I don't know, it brought back, what am I, what do I do in this world, I write songs, I sing songs, I found ways of continuing to do that and have it mean something to people, recorded the Toad album, just this last summer recorded his solo album, I'm still finishing that one up. I managed to keep myself occupied, but not just with busy work. It was good to feel like I was taking care of myself and I was really once again able to accept things as they were, was the big lesson. It's always the lesson, right? It's the strange thing about being a human being is, we're able to do all these interesting things because of memory and because of the capacity for prediction. We remember how people act, we create models of people in our head, that help us determine expectations about their possible reactions to things we do in the future or we take samples of our current and past experiences and extrapolate those and that's really useful, it gives us a framework to do so much, but the moments the only thing that actually exists and every spiritual teaching seems to come down to this focus on like, the past and the future fictions and the moment is all there is and how do you want to show up for today? And at the same time, there's still whatever the modern day equivalents are of gathering wood for winter, you still have to have enough of the future in your head that you don't just die when it gets cold. So those predictive capacities, but at the same time, I can tend to have a tendency towards predicting doomsdays and getting very anxious and trying to idiot proof the future, and being so afraid of all the things that could go wrong, that I don't do anything. I've had a lot of reckoning with depression and anxiety and this year for me, I think, especially seeing it's like, okay, now there's a pandemic, looks like we have an authoritarian ruler, we've got massive divisions, we've got a breakdown of trust and of basic institutions and a loss of kind of a factual common ground, it's almost split down in the middle, and what do you do with that? How do you react to that? How do you stay kind, how do I not become judgmental or hateful, or become the very things that I want to fight against. How do I keep an open heart and see the good in people who I disagree strongly with and not respond to anger that comes at me with more anger. It was such a fantastic test of all of those things. The answer that kept coming back was, show up, do your practices, get yourself centered, come back to kindness, be in the moment, forget what you think you know, and if there's an irrational belief I try to hold, it's that love wins and that people are good. I'm willing to state that that is an unprovable belief system that I have, but I'm aware of that. But I think it's also worth me holding on to, because that's where I derive my help. So, it's been a big one for that, it was a major test, especially if you're prone to depression, and you kind of know how your mind works. You have to have a relationship with the stories you tell yourself and how much you indulge them. If you are putting crap into your body that's gonna mess up your serotonin levels. I want to be a happy healthy person who is useful to those around me, and is kind and isn't always anxious. And so, the practices become much less esoteric when the shit hits the fan and they become much more practical.