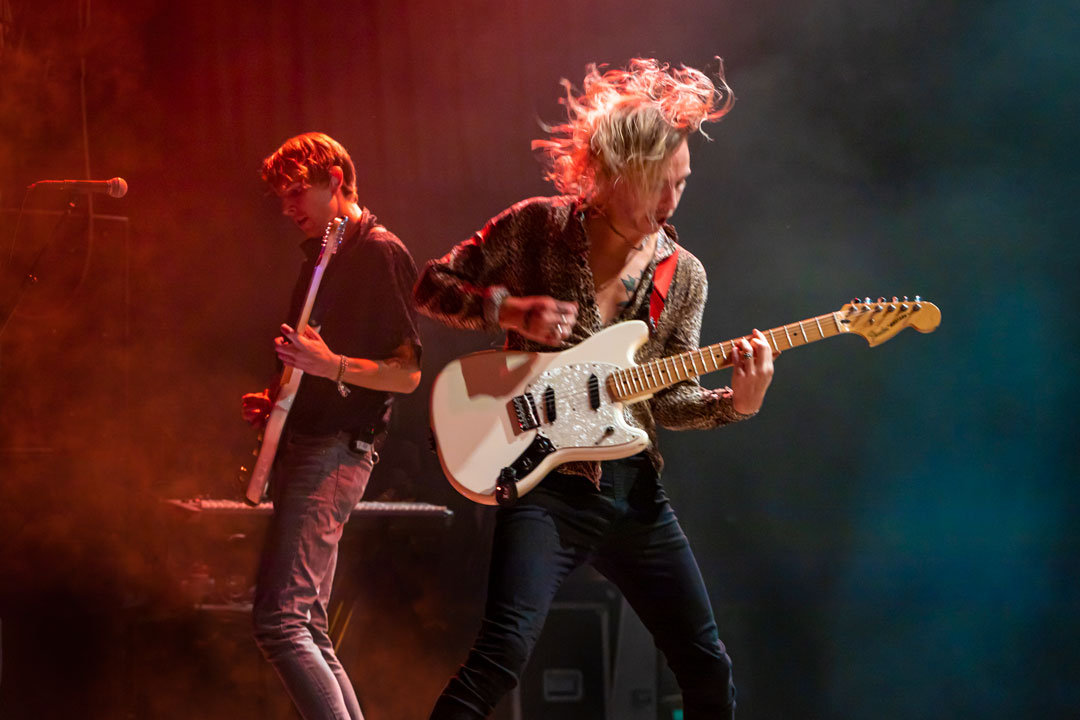 Talk about trial by fire, The Hunna, have seen it all in short time. In 2016 these British rockers; Ryan Potter, Daniel Dorney, Junate Angin and Jack Metcalfe, exploded on to the scene with their first album '100', which hit #13 on the UK charts. They feverishly toured UK, Europe, and the US which garnered them a massive following. Their highly anticipated second album 'DARE' was released in 2018 and encompassed another world tour that included UK, Europe, USA, Australia, Indonesia and Asia. And while things appeared splendid to the fans, internally the band had come to blows with their management over their necessity to control them. Finally, the band had reached a breaking point, tours were canceled, legal action was taken against their record label and new management was established. The Hunna are signed to 300 Entertainment in the US and just wrapped a US tour supporting Barns Courtney. They are heading to the studio to record their third album with John Feldmann, front man of Goldfinger, as producer.
We caught up lead guitarist, Daniel Dorney to discuss to their troubled past and where they are headed now.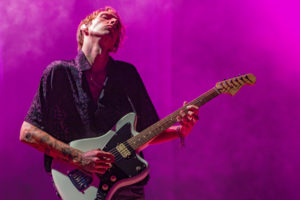 Is your latest single, IGHTF (I Get High To Forget), a song declaration to your former record label?
It actually kind of was to be completely honest. We worked with grandson. He was in town, so he jumped in on the recording session with us, which was amazing. We were just saying that we've got a lot to talk about and we really wanted to channel that kind of mood into the song. Normally Ryan is the lyrical writer, he loves to write about real experiences. He always says if he is going to have to sing it for the rest of his life he doesn't wants it to come from someone else. But also we were trying to keep it from the perspective that if you weren't going from the same situation as us you could relate it to any situation you currently had. Whether it being a break-up, a colleague or a job. Anything like that really, we thought, if we could keep it open minded for people out there that it could relate to themselves with whatever shit they have got going on, then that would be great.
When you first started writing the song was that the intent?
Yeah it was intentionally written about our previous record label management and it was like massive fuck you for them and it was really fun to channel that energy into songwriting.
You play 'D.G.A.F.' at the end of each set which I understand will be on the upcoming album. What does it stand for?
D.G.A.F. stands for "Don't Give A Fuck" Our friends who are in the killer band, Night Riots, they taught us that definition. They were like, "Have you ever heard of d.g.a.f.?" We where like, "No, what the fuck is that?" "It stands for don't give a fuck!" We thought was awesome and we wrote it with John Feldman. We actually are recording 'D.G.A.F.' as well. But that was kind of a song where we really just wanted to go really fast, really punky. We wrote the song in like 15 minutes, but John doesn't waste time. So when we are writing with him he's like right we got 20 minutes left are we gonna write a song, try and make a killer song or you gonna go home? So we just went in there and we just wrote an incredibly fast crazy upbeat song and it's turned out really really well. We've been playing in the U.K., Europe and our festival season too. We like to play any songs that we are going to record in the future live to see how they play out live, to feel the energy of them and that one's proven to be really successful. So many people can't wait for it to be released. I really excited to record 'D.G.A.F.'
It was surely amazing to perform at the Reading Festival. What was it like having thousands of people sing "She's Casual" back to you?
Unbelievable man! I remember writing that with Ryan. Near my house there was a guy in a wedding band, and I used to beg him to let me practice because we didn't have much money back then and he finally let us record it down. Me and Ryan were trying to learn how to record on a laptop for the first time, we had just recorded two guitars with the vocal and we were really stoned, and we were like that sounds really good, that song sounds really good! We were just so mad for it for that moment in that little shed that had holes in the roof, complete shithole stoned out of your brain and then playing the Main Stage at Reading and Leeds and everyone singing it, word of word, back to you it was just unbelievable. Too great to put into words!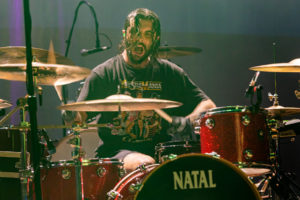 For your third album you have John Feldman producing it. What can we expect from this upcoming album?
The albums come from experiences. Our first record it was more about wanting to be successful and early young love. The second record was about real experiences about losing family members and breakups. Now it's about our previous experience about our record label and what we've left. We're quite angsty and we've got a lot to say. It's really channeled well with the songwriting. Sonically we're going to add elements, like we want to do a whole Hip-Hop / Rock upbeat, fast, with some electronic sounds. We never had the right producer to do that with. It's really coming along very well and it sounds futuristic. It's kind of hard to compare the sound we've got right now and what we're currently recording with John Feldman. I think that's going to be a really good thing because it's going a to be a unique sound sonically and lyrically, I think it's the best shit Ryan's ever written!
How much time in the studio do you have to finish the record?
We've got a whole month and we've already tracked a lot of parts. Drummer Jack Metcalfe and our bassist Junate Angin are going to come down and do their stuff. Then we'll add more guitars and make our songs sound like they are ready and then we're going to dissect them again. We're going to try and create a third record which is a complete game changer for us and for the rock scene really.
When will it be completed?
We are going to record the album then we going to shoot videos then a worldwide tour, Australia, Europe, UK and America. We're going to be here in America as much as possible. We're got a lot of work to do here. It's probably going to start in April, that's the talk about it.
How does The Hunna start a new song? A guitar riff? A lyrical hook or what?
It kind of varies. Me and Ryan always write together, we always have since we were young. It could be a couple chords or a vocal melody and we're like that's a wicked chorus and we could decorate and dance around that or it could be as simple as a wicked guitar riff that we start to build off of and then put a vocal over it. Sometimes Ryan has lyrics written or a set of chords with like a really good chorus/melody and I can bounce around that. Also we love writing with other people. It's really good experience working with people like John Feldman. We write with Fall Out Boy, Josh Dun of Twenty One Pilots and Nick Jonas. It's just great when you go into these sessions you think you know a lot and you think you know how to write a song, which really do but there are other people who have been doing this for twenty or thirty years, they really know their shit. It's great to walk away from a session knowing something you didn't know before and you can implement in your writing again. To try and become a better you and a better writer, it's brilliant and I love it!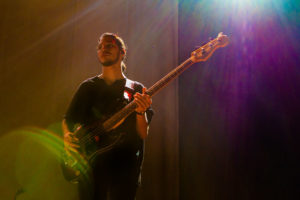 Rap/Hip-Hop artists have used collaborations with other musical genres to widen their audience. Why do you think rock artists have been slow to embrace that concept?
It's kind of a complicated thing. I think bands feel like they should be entitled to be writing their own material which they do and they should. Me and Ryan never not want to write our own material like we always have to be involved or be a part of it. It's a bit of a difference. I lot of bands I do know think if it doesn't come from your band it shouldn't come from anybody else and I completely understand that, it's great. But like I said before I think it's really important to understand that you shouldn't let your own ego be in your way. To let it create a barrier between you and songwriter. There are a lot of people who are not wanting to try, and I respect it but you can also hear it in their music. Music so far developed, these songwriters in all genres of music they are the best. It's up to them I guess but good luck if  your ego is like that and you do believe in yourself then fine but going to be a longer and slower process and there's no harm in wanting to learn from people and excel as a person.
Music listeners today are exposed to so many more styles of music. Do you feel musicians should embrace that in the music?
Exactly, it's so diverse now like the music industry and genres are changing it's not just how it used to be where people like rock or people like rap, everybody likes everything now and everyone's got all those streaming platforms. When I was a kid you liked a genre of music and you would go buy the record. You would end up being social with the people who had the same taste in music. Compared to now, if you are a young kid you can listen to anything, anywhere, whenever you want and I think it's a great thing. It's bringing genres together, creating great sounds, creating a new wave and it's actually brilliant but I do feel like a lot of people in the industry are still thinking backwards and that's just what's going on right on. They should embrace it. It's like Post Malone, he is an all-rounder, sonically he fits all different kinds of categories because there isn't really a category. When you see him live, he'll have a live band, he's smashing it, he'll give you that rock feel but he'll also give you that hip-hop feel with a pop feel. He'll go to new avenues because that's what music is becoming and it should as well because you shouldn't be boxed in. That's why we're really excited about our third record, we're not boxed in to having to be what everyone would expect a band to be. Like you can still be a rock band and add other elements from other genres and evolve rock. Not saying it's going to succeed but we are going to give it a fuckin' good go! You gotta try and be revolutionary if you can and I believe we will be!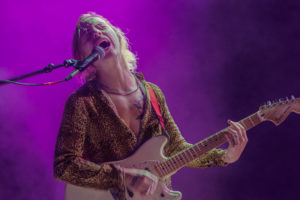 Your critics call you a self-made social media or identikit indie band. How do you respond?
Just take it on the chin. I don't mind the haters. There are a lot of people who love us too! The haters fuel my fire. They fuel me to be better. They fuel me to want to prove them wrong and want to win them over. It's kind of a good thing, with love comes hate. I can see why people have that perception line from the early days and how we were marketed on Facebook and online. The marketing was aggressive. But for us at the time that was the plan for the band when we signed the deal. The deal that we got out of. No one really advertised on Facebook and we are going to spend all of your marketing budget on Facebook. We just want to try a new thing. Yeah, I guess it's a timing thing too because we were the first in the UK to do it. You got to remember this was when sponsored ads weren't so frequent. And we did do it and we gained so many fans. For us it was great. It was getting the music out to everybody around the UK and around the world really. It was working and it was great. Obviously with aggressive marketing comes the first problem which is people don't like to be force-fed something, they don't want to consistently see an ad that they don't want to see. So I can understand why people would be irritated and thing we are manufactured. But the manufactured thing is complete bullshit because it's not. I've known Ryan since college. I've known Jack since college, he was just a couple years older and he was drumming in bands and I really wanted him to be in a band with me. We all pulled together and played around campus for a while. Then we signed a deal and in one year we wrote hundreds of songs. And out of the hundreds of songs which are the best like 12 or 16 songs and we picked them. We recorded them and dropped '100.' We were a band before The Hunna. The funny thing is now, which is really hilarious, some bands that used to give us shit about it are now doing it too! The irony! It's hilarious. I love it!
The music industry has changed drastically over the years. Streaming services have replaced album sales and bands are looking for other ways to generate revenue. Green Day just announced a partnership with the NHL and your tour mate Barns Courtney has a sponsorship deal with Motel 6. What other changes in the industry do you see coming?
There are definitely a lot of crossovers now isn't there, like with brands and events. Events are becoming more of a thing than like actual physical record sales. There are so many festivals around the world and people like to go to those kinds of things and are willing to spend money on it for the experience. And it just makes sense and with brand crossovers as well it works hand in hand. We can get paid and gifted stuff and in return we get exposed to their fan base and they get exposed to ours. We're all just helping one another out. It's just genius. It completely makes sense and social media has changed everything!
The FADER Announces Line-up for Digital FORT 2.0
Additionally a collaboration with Dolby to launch the "Inspired To Inspire" artist spotlight talent search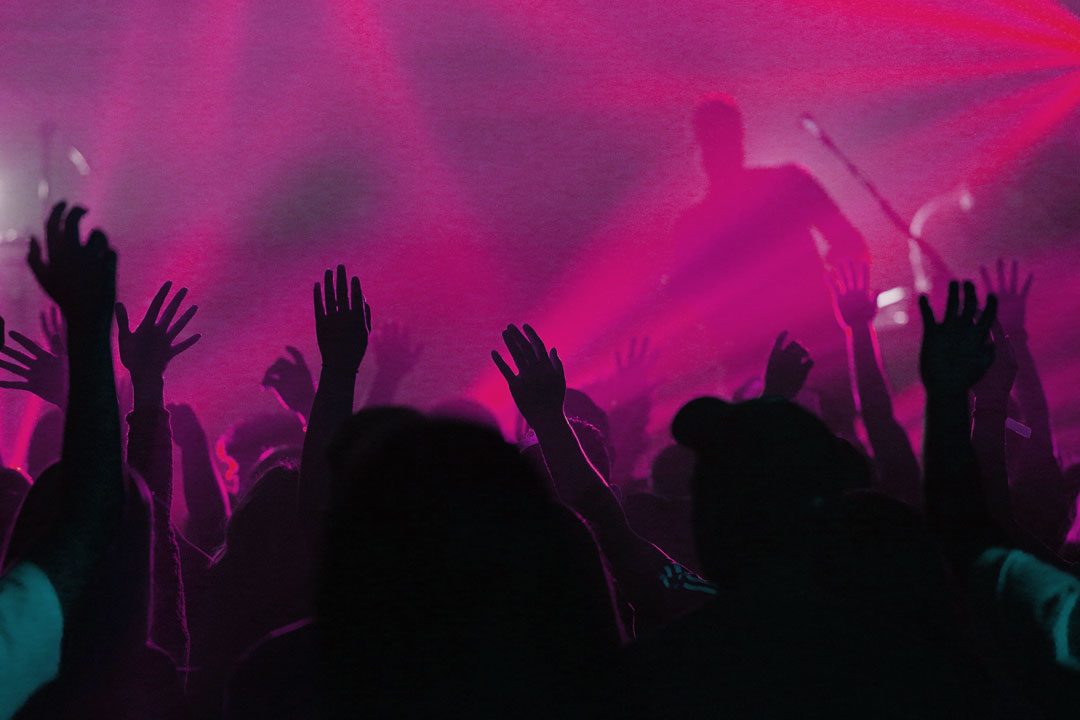 If you have attended SXSW in Austin, Texas you are very familiar with the amazing invite only FADER FORT event put on by The FADER. Last year, if you were lucky enough to score a pass, the performances included Megan Thee Stallion, Omar Apollo, Charly Bliss, Da Baby, Big Boi, Japanese Breakfast, Novelist, and Pink Sweat$. While this year's event would have been equally spectacular, SXSW was cancelled due to the spread of the worldwide pandemic, COVID-19.
In an effort to keep music alive during the shutdown, The FADER created Digital FORT, a two-day live stream event back in March. It included over 100 artists, amassed over 150 million impressions and raised over $35,000 for various charities.
As a follow up The FADER has created Digital FORT 2.0 which is scheduled to take place on Saturday, July 25th, beginning at 5 PM EST. The broadcast will be embedded for viewing on TheFADER and live on The FADER's Official YouTube Channel, with select content remaining available on VOD for one week following the event.
In speaking with Jon Cohen, co-founder and co-CEO of The FADER, he stated, "We are going to try and do this on a more regular basis. These events give artists a chance to supplement what's not happening."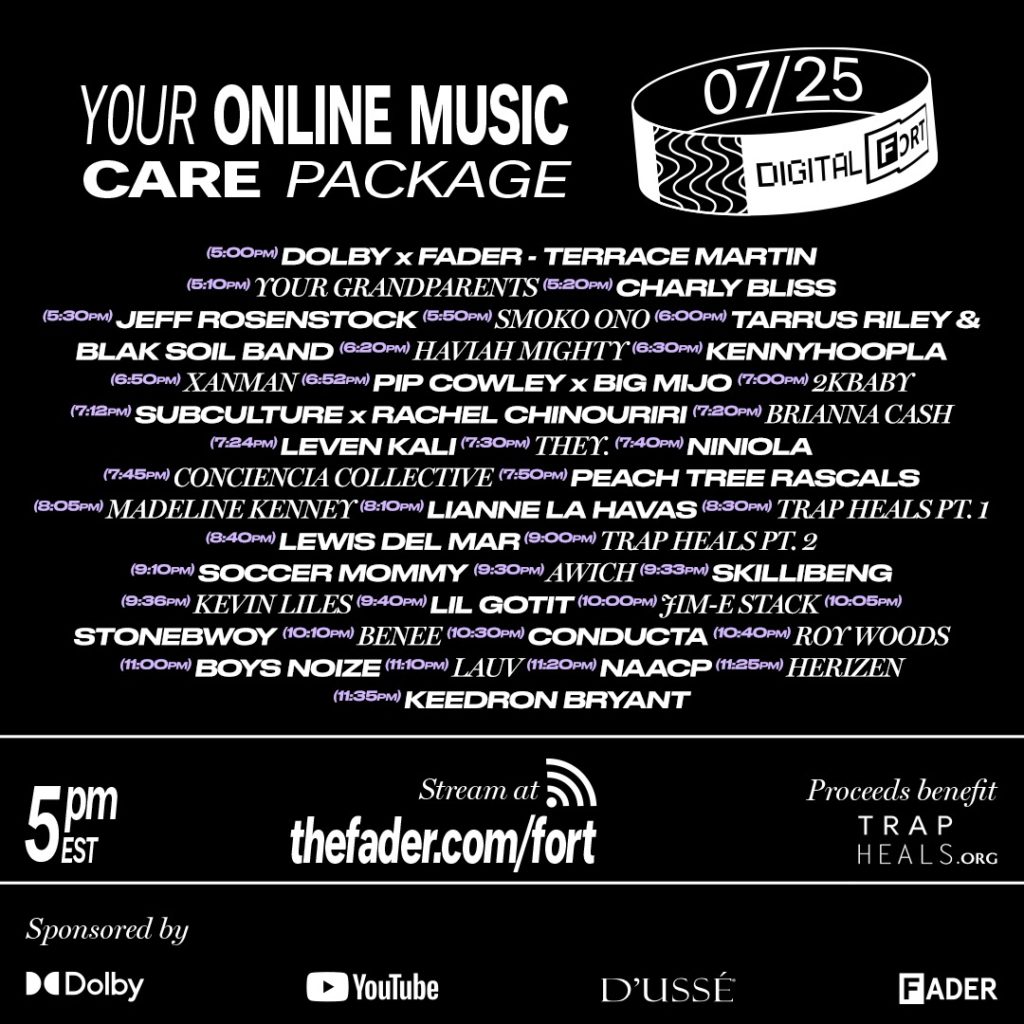 The event will feature over 30 + exclusive performances from both acclaimed and emerging artists in support of several charities, including Trap Heals, the NAACP, For The Gworls, Arts & Parts, Gideon's Army United and more.
The FADER also announced a new partnership with Dolby and will host a social media talent search, Inspired to Inspire, encouraging artists to create and submit a performance using the free Dolby On recording app for a chance to win an Artist Spotlight interview and video premiere on The FADER.
All entries must be of original material up to five minutes in length and entered through the submission form at https://bit.ly/DolbyInspiredToInspire. Submissions must be made using Dolby On, a free app, available at https://www.dolby.com/apps/dolby-on/. Entrants are also encouraged to post their submissions to social media using the hashtag #DolbyInspiredToInspire. The entry period begins July 25th at 5:00 PM EST and ends on August 5, 2020 at 11:59 PM. The winner will be announced on TheFADER.com by August 31, 2020.
In Pictures – Silversun Pickups and Eliza & The Delusionals
Heading to SXSW Music 2020, This Playlist Will Make Your Life Easier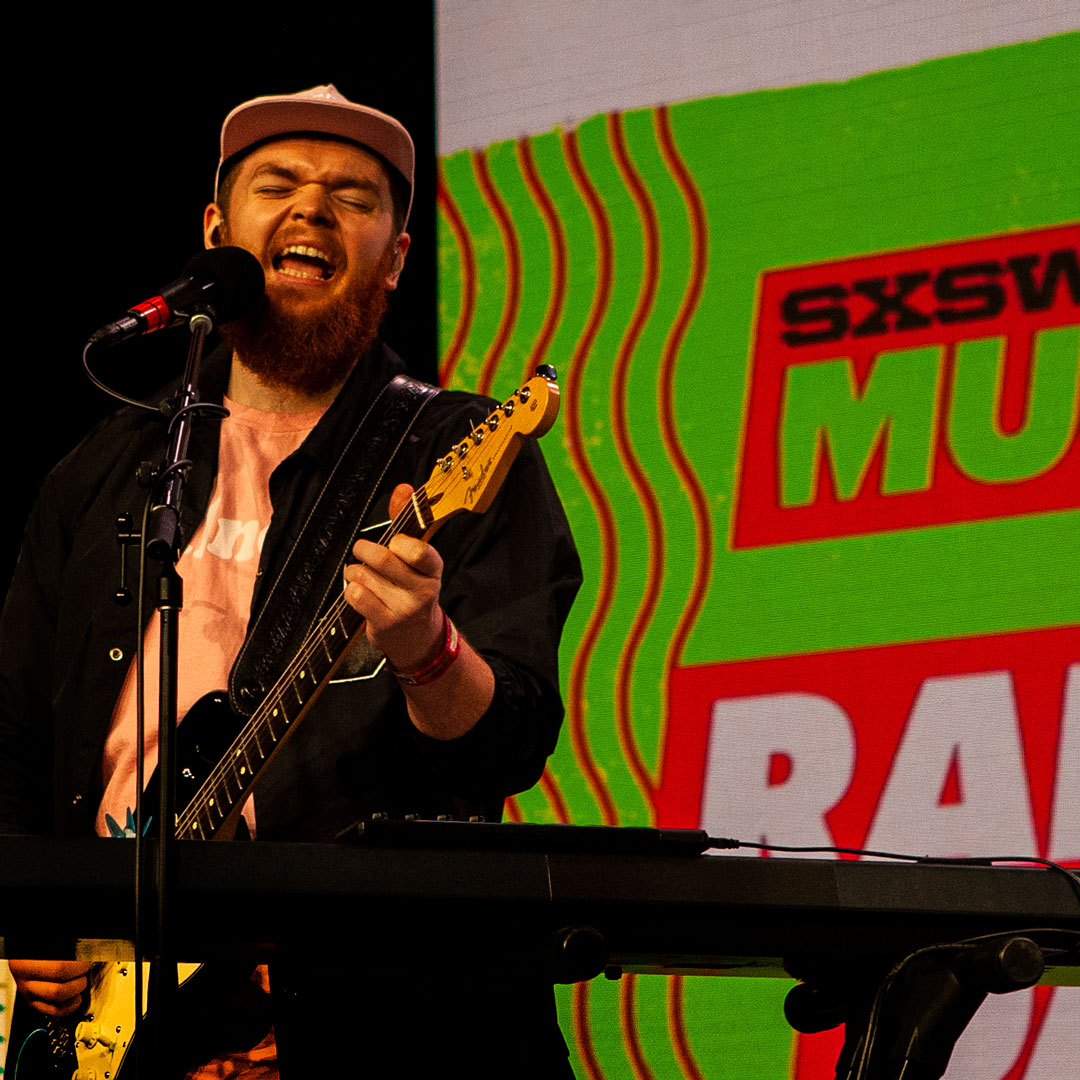 With over 2000 bands to chose from, it is almost impossible to make this playlist but our staff picked their faves.